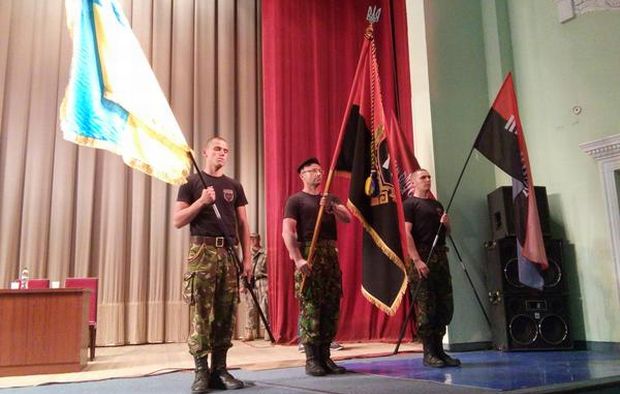 The Right Sector passed a number of decisions at its Congress behind closed doors on Tuesday/ hromadske.tv, RS_Ukraine
The Congress, which gathered after a Mukacheve shooting incident involving the Right Sector, decided that the organization would also insist that the agenda of the plebiscite should include a question about rescinding the Minsk peace agreements and designating the Anti-Terrorist Operation in Ukraine's east as war, and the legalization of the military volunteer movement.
The Congress also decided that the Right Sector would not take part in the local election in Ukraine, which is scheduled for autumn.
Another decision taken at the Congress is that Right Sector leader and Member of Parliament Dmytro Yarosh is not going to  give up his deputy mandate, a Right Sector source, who was present at the meeting, told Novoe Vremya.
As UNIAN reported earlier, the shooting incident took place in Mukacheve, Zakarpattia, on July 11, when up to five people were shot dead and up to 14 were wounded. People close to MP Mykhailo Lanyo, local police officers and Right Sector members were involved in the shooting.
Newly appointed Zakarpattia Governor Hennadiy Moskal announced that criminal cases had been opened against 13 Right Sector activists.
hromadske.tv, @RS_Ukraine