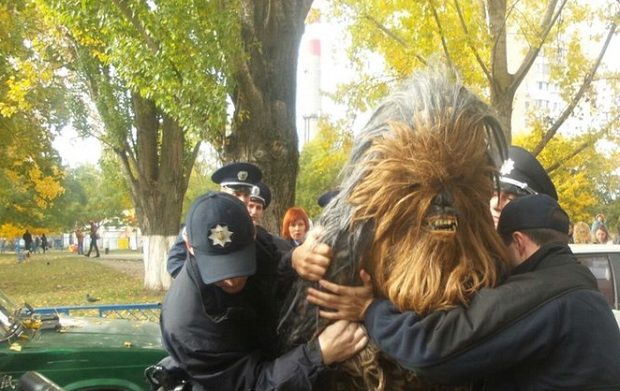 'Chewbacca' is being detained by Ukrainian police / Photo from 1tv.od.ua
The incident took place near polling station No. 511107 (district No. 133) located at a secondary school at 1 Hlushko Avenue in Odesa, Press Secretary of the Odesa municipal police department Anastasiya Yakubenko told UNIAN.
"A car with 'Chewbacca' and 'Darth Vader' arrived at the polling station. They stopped and blocked the traffic. A police patrol arrived in response to a call. A protocol was drawn up," Yakubenko said.
In her words, the police asked the two to submit documents for the car that was used to block the road. However, both 'Darth Vader' and the 'member of the Wookiee species' ignored the police's requests.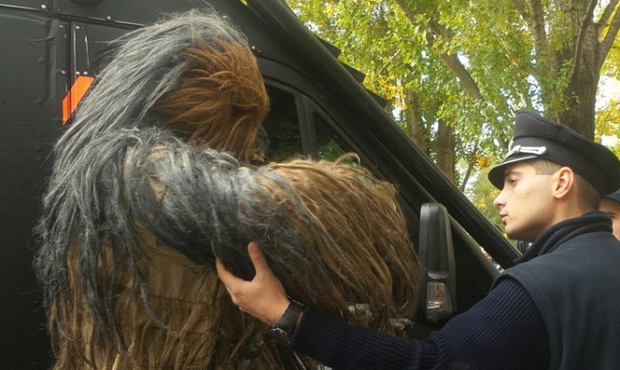 The 'member of the Wookiee species' refused to go to a police station / Photo from 1tv.od.ua
The police had to invite 'Chewbacca' the driver and 'Darth Vader' to the police department to clarify the circumstances of the incident.
Information about the administrative offense was included into the state register of pre-trial investigations on charges of disruption of public order.
Eyewitnesses claim 'Chewbacca' refused to disclose his real name to the police and did not want to go to the police station.
As UNIAN reported, Odesa city election commission registered a man who officially changed his name to Darth Vader as a candidate running for Odesa's mayor. What is more, it also registered a list of his candidates running for Odesa city council.