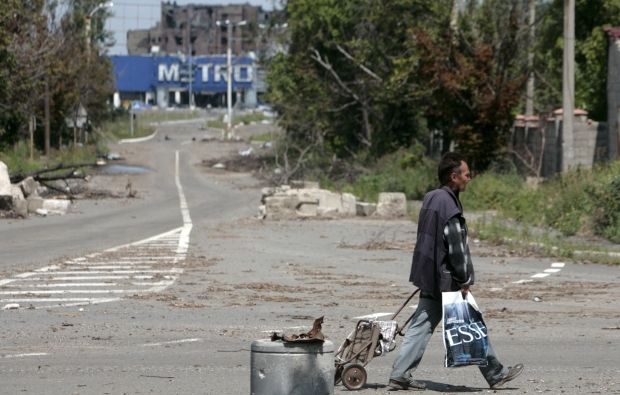 REUTERS
"In order to divert attention from the tragic events in Syria, which has recorded many civilian deaths from Russia's military operations, the Russian leadership is masterminding a provocation against Ukraine at the international level. Its goal is to discredit our country's leaders and create a pretext for filing a lawsuit against Ukraine at the International Criminal Court in The Hague, as well as to find reasons for Russia's withdrawal from the Minsk peace process," Lysenko said at a briefing in Kyiv on Thursday.
According to him, the Russian Federation is busy with inventing false evidence of the so-called "Ukraine's genocide against the Russian-speaking population in Donbas." In particular, Russian agents are working to create documentary materials about the destruction of nearly 400 houses and killing of 500 people (in particular women, children and elderly people) allegedly by the Ukrainian military in the village of Sokilnyky in Luhansk region's Slovianoserbsky district, which is now located in temporarily occupied territory near the contact line.
Involved in the "project" are officers from the FSB Federal Security Service, the GRU Main Intelligence Directorate of the General Staff of the Armed Forces of the Russian Federation, the Russian Investigative Committee, as well as representatives of the so-called "power structures" of the Luhansk People's Republic (LPR) terrorist organization. The propagandists in fact make use of the real facts of destruction in the village of Sokilnyky and deaths of its citizens from the hands of Russian-backed militants and Russian regular troops during the fighting in late 2014 – early 2015.
Such facts, which are planned to be presented as the so-called "results of the LPR law enforcement agencies' investigations," have already been used for designing information and materials for media and lawsuits for propaganda purposes.
To fan the flames of hysteria and hatred, Russia is planning to draw a historical parallel with the tragic events of the Khatyn massacre by a Nazi battalion in Belarus during the Second World War and the Yugoslav wars of the 1990s.
"Locals are subject to psychological brainwashing, the occupiers are trying to force them into providing 'necessary evidence,'" Lysenko said.
Russia wants to accuse the Ukrainian military of 500 civilian deaths, including children, who were killed during the alleged "genocide against the Russian-speaking population of Donbas," he added.