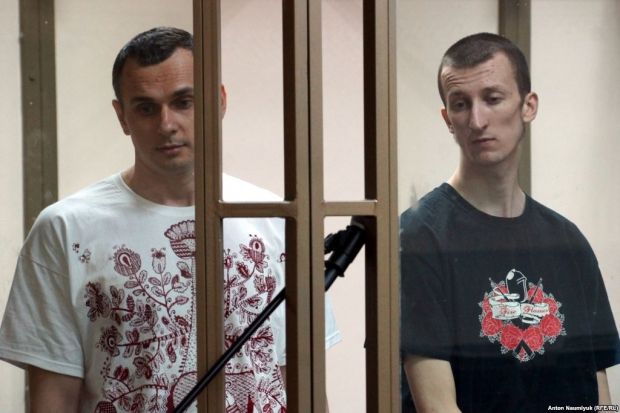 Sentsov and Kolchenko / Radio Liberty
Grabovskiy said the issue was not opened yet, but noted he supported the initiative of the exchange.
Head of the Ukrainian center for the release of prisoners of war Ruban confirmed this conversation with the lawyers and said that Russia had agreed to exchange Sentsov and Kolchenko for Russian GRU officers Alexandrov and his teammate Yevgeny Yerofeyev.
Ruban said that at a recent meeting of the Trilateral Contact Group in Minsk he had received an offer to exchange Sentsov for Yerofeyev, but the Ukrainian side proposed the "two-for-two swap model:" the two Russian officers for Sentsov and Kolchenko.
The Russian side's negotiators agreed to such a model, he added.
"The main swap model cannot be applied until the verdict of Alexandrov and Yerofeyev has been announced. Then it will be the exchange as agreed by both sides – they will serve their sentence in their home country. Under some guarantees, the diplomats will exchange them as convicts rather than as hostages or prisoners of war, and each of them will go to his own country, where he will be granted a pardon," Ruban said.
However, according to him, there is also a possibility that the two Russian officers could be exchanged for captive Ukrainian pilot, Member of Parliament Nadia Savchenko, who has been on trial in Russia, and this swap can happen at any time if there is the political will on both sides, but it can also happen after a court verdict.
As UNIAN reported earlier, Alexandrov and Yerofeyev were detained near the city of Schastia in Luhansk region on May 16, 2015, during a skirmish in which a Ukrainian soldier was killed.
During interrogations, they claimed they were serving in the Russian army and were performing a service task in Ukraine. The Russian Ministry of Defense claimed that the two detainees had been dismissed from the army in December 2014.
On August 26, 2015, Ukraine's chief military prosecutor Anatoliy Matios announced that a pre-trial investigation into the case of Alexandrov and Yerofeyev was over.