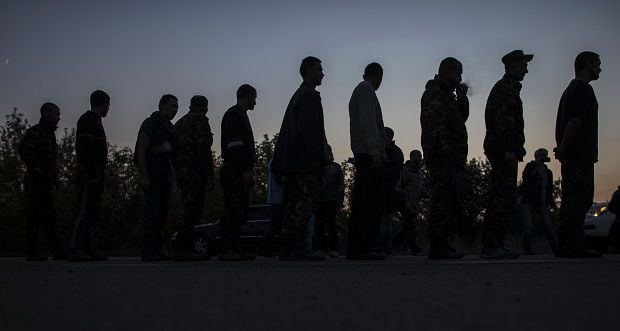 REUTERS
His vehicle had broken down along the front lines in eastern Ukraine near the village of Verkhniotroitske. It was August 10, 2015, only four days before the end of his military service commitment and his scheduled return home. Krypychenko found himself alone in no man's land. When an intelligence unit of separatists appeared and approached with weapons drawn, he assumed they were going to execute him, The Daily Signal writes.
"I was mentally ready to die," Krypychenko tells The Daily Signal in an interview following his release.
"It was a wonder that I lived," he adds.
"A couple times I felt like I was losing hope," he says sitting in an office in a Kyiv hospital, according to the report.
"But I strengthened myself."
As part of ongoing negotiations between Kyiv and the Russian-backed separatist territories in eastern Ukraine, the separatists released four Ukrainian prisoners of war, including Krypychenko. According to Ukrainian news reports, Ukraine released five captured separatists and a priest in exchange for the servicemen.
The interrogations were "very rude," Krypychenko says, as he describes how his captors tortured him with electric shocks and beat him with their fists and wooden planks.
The first interrogation lasted for about three hours, he explains, but they got shorter as time went on. He was never threatened with execution during those sessions, but the guards occasionally made offhand death threats, The Daily Signal writes.
As to the nationality of his interrogators, whether Ukrainian separatists or Russian intelligence operatives, Krypychenko says he had no reason to believe any were Russian.
His captors held Krypychenko in solitary confinement for the entirety of the 195 days.They allowed him to leave his cell and go outside under open skies only two times, each at night for about two minutes, so that he could smoke a cigarette.
Throughout his captivity, Krypychenko was held in three separate locations. His captors placed a bag over his head when transporting him, which, in addition to his isolation in solitary confinement and lack of contact with fellow prisoners, robbed him of any sense of his surroundings, according to the report.
"There was no possibility to escape," he says. "I never knew where I was."
When Krypychenko was told about his impending release, he says, he was conflicted, simultaneously flooded with feelings of relief and guilt. He knew other Ukrainian prisoners of war had been in captivity longer -- some for more than a year -- and many of them never had been properly treated for their injuries.
"I thought if I had the possibility I would have refused to go home and let someone go in my place," he says.
The four prisoners released February 20 were driven to a location on the front lines where they met Ukrainian officials. They immediately received cell phones to call their families with the good news, according to the report.