Azov member Krasnov accused of espionage sent to jail instead of home arrest
Kyiv's Shevchenkivsky district court has ruled to change a pre-trial measure for Azov Battalion member Stanyslav Krasnov, who is accused of espionage, from home arrest to two-month remand, according to Ukrainian online newspaper Ukrainska Pravda.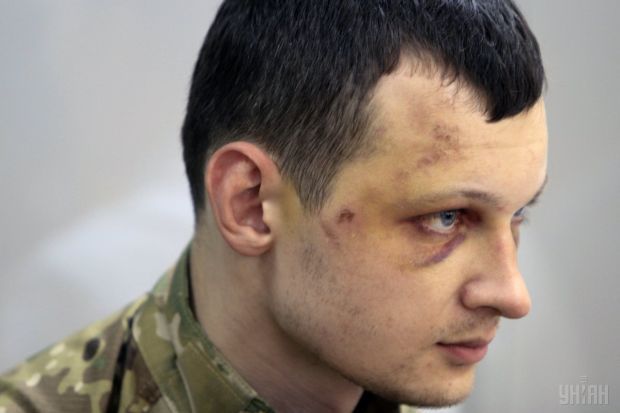 Krasnov's lawyer says his client has been tortured by SBU officers / Photo from UNIAN
The ruling was made by judge Pavlo Slobodianiv, who satisfied a motion filed by prosecutor Andriy Svatko.
Krasnov will be held in remand until April 26.
A brawl happened after the court's ruling was read out. Krasnov's supporters formed a cordon at the exit of the court's yard.
Krasnov, who heads the Azov-Krym civilian corps, was detained in Kyiv region on February 28. He was originally accused by the SBU Security Service of Ukraine of illegally possessing weapons and explosive materials together with his girlfriend Oksana Shelest. The SBU also claims that Krasnov is a Russian FSB agent who has been plotting acts of terrorism in Ukraine.
Krasnov's lawyer Andriy Mamalyha says that Krasnov has been tortured by SBU officers in an attempt to persuade him into acknowledging the fact of owning an arms cache.
The lawyer said that the defense would appeal against the March 21 ruling.
The court's first ruling, which was made on March 3, was to keep Krasnov under home arrest and let him undergo medical examination.
On the same day, Krasnov faced new counts – plans of terrorist attacks, espionage, and high treason.
The motion to change Krasnov's pre-trial measure was filed by the SBU on March 15.
If you see a spelling error on our site, select it and press Ctrl+Enter