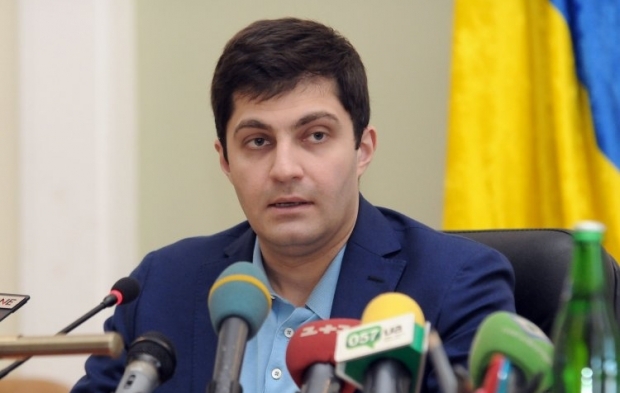 David Sakvarelidze says Shokin has business ties with "diamond prosecutors" / Photo from UNIAN
"We investigate about 40 corruption cases, but somehow the focus is now on "diamond prosecutors" case. Why? Because Prosecutor General Viktor Shokin in this case acts as the most outspoken advocate and defender of Korniyets and Shapakin – people close to him," Sakvarelidze said.
"There is a term a business manager. Well, Korniets is in fact Shokin's "business manager." There are also reports that for some time, he was his driver. This has to be proved by the documents seized from Korniyets, which tie hin with Shokin," he said.
Sakvarelidze emphasized that he and his team had been deceived by promising to reorganize the department, but instead trying to discredit and dismiss them all.
Read alsoEx-prosecutor Kasko says Shokin gave instructions coming from MP Kononenko"They came and they confided in me and the president. Accordong to his decree, this department was established. Seven investigators, four prosecutors and several IT experts posed a serious threat to the system , to Shokina, to his deputy Stolyarchuk, to his deputy Sevruk," Sakvarelidze said .
If the system doesn't change drastically then the illegal distribution of wealth will continue in Ukraine, according to Sakvarelidze.
Read alsoDeputy Prosecutor General Sakvarelidze: More cases against my team than against YanukovychAs UNIAN reported earlier, former deputy prosecutor of Kyiv region Korniyets and former first deputy head of the Main Investigation Department of the Prosecutor General's Office Shapakin were detained July 5 2015, for receiving a bribe in the amount of UAH 3.150 million.
During searches of Shapakin's premises, $400,000 in cash was seized, while a significant amount of jewelry, 65diamonds, and a Kalashnikov assault rifle were revealed and seized at the premises of Korniyets.
On January 4, the Prosecutor General's Office forwarded the case against the so-called "diamond prosecutors" to the court.