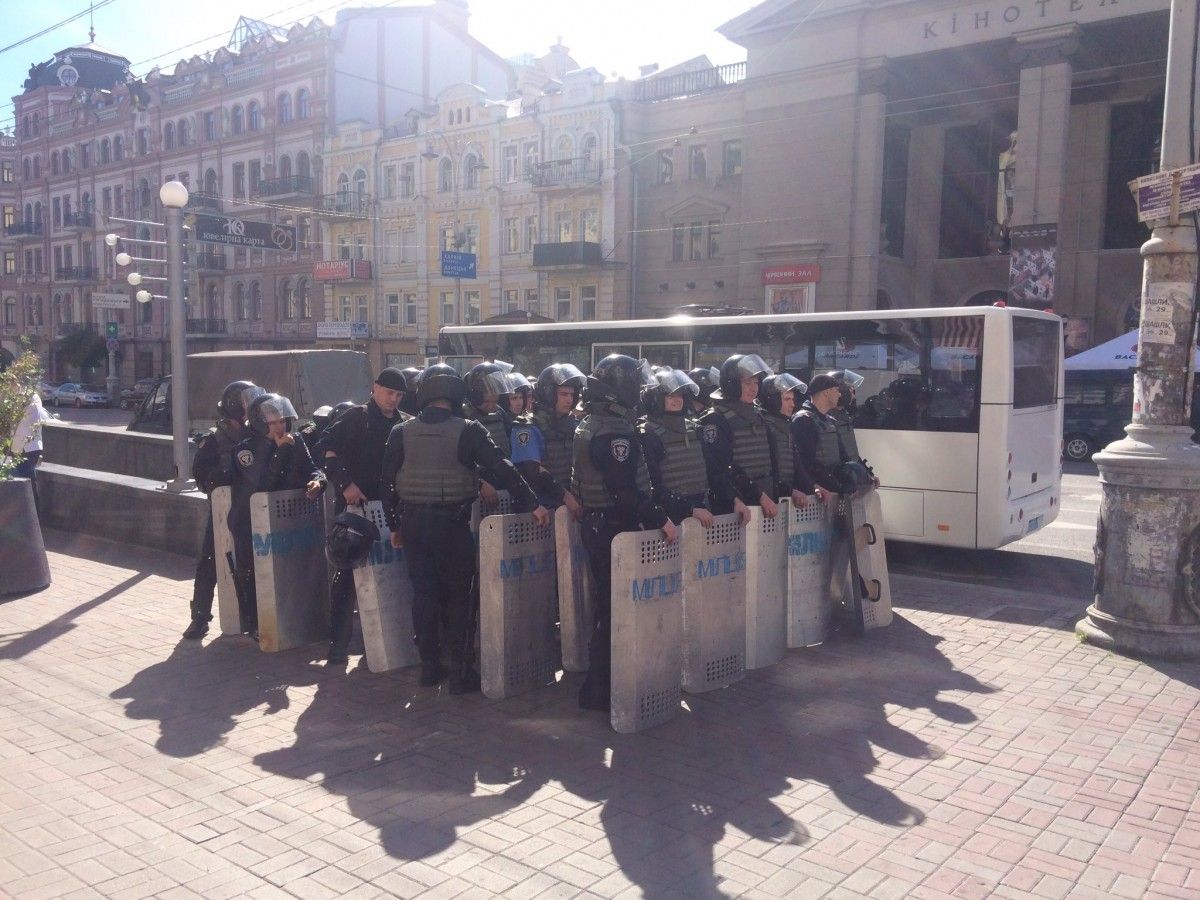 Nearly 6,000 law enforcers were on duty to ensure law and order during the Kyiv Pride / Photo from Twitter Roman Kravets
The people were "behaving aggressively" and "did not react to police orders," the media liaison office of the National Police's main department in Kyiv told UNIAN.
The police will establish their identities and will give the legal evaluation of their behavior, it said.
Hromadske TV earlier reported that 20 of the detainees were from the so-called Korchynsky headquarters.
"Twenty people from the "[Ukrainian radical Dmytro] Korchynsky headquarters" were detained during the Kyiv Pride. They were brought to a police station in Darnytsky district [on the outskirts of Kyiv]," Hromadske's news website wrote on Sunday.
"Fourteen more people are being taken in the direction of the Livoberezhna metro station, about 10 were detained near the Teacher's House, and another one on Prorizna Street [the latter two destinations are located in the center of Kyiv, on its right bank]," a Hromadske correspondent said.
Dmytro Korchynsky is a Ukrainian public figure, founder and leader of Bratstvo (Brotherhood, founded in 2002), a Ukrainian radical political organization, which propagates Christian and simultaneously anarchist values. Korchynsky is the former leader of the ultra-nationalist UNA-UNSO party. He was reportedly seen in different mass riots in Ukraine, including Maidan events late in 2013. At the beginning of the Russian-Ukrainian war, he joined a military volunteer battalion fighting in the east of Ukraine against the Russian occupation.
Read alsoInterpol detains Ukraine's Korchynskiy in ItalyOn Sunday, the LGBTI Equality March, or the Kyiv Pride, a peaceful procession in support of personal and public safety, human rights and non-discrimination, was held in the center of Kyiv. It took place as part of the fifth international LGBTI forum hosted by Kyiv on June 6-13.
Read alsoSome policemen don't want to guard LGBTI pride parade in KyivNearly 6,000 law enforcers, including police officers from Kyiv and other regions, the National Guard, cadets of the National Academy of Interior Affairs were on duty to ensure law and order.
National Police Chief Khatia Dekanoidze was present in person at the Kyiv Pride.