Rada ratifies Paris Climate Agreement
Ukraine's Verkhovna Rada has adopted a bill on the ratification of the Paris Climate Agreement, according to a UNIAN correspondent.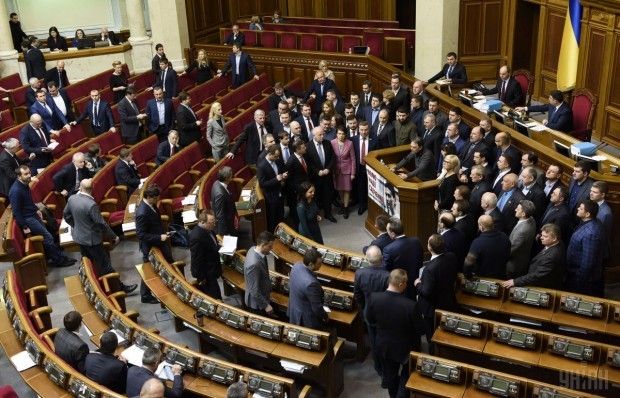 Ukraine signed the agreement in New York City on April 22, 2016 / Photo from UNIAN
Bill No. 0105 was supported by 279 of the 335 Members of Parliament registered in the session hall on Thursday.
The agreement was signed on December 12, 2015, at the 21st conference of signatories to the UN Framework Convention on Climate Change. Ukraine signed the agreement in New York City on April 22, 2016.
An explanatory note to the bill outlined how the ratification of the agreement will assist in the implementation of the UN Framework Convention on Climate Change. It will also contribute to the strengthening of the global reaction to climate change threats, in the context of sustainable development and efforts to root out poverty.
It further says that Ukraine, as a party to the agreement, shall independently define its CO2 emission quotas, taking into account its social and economic development and financial capabilities. Additionally, Ukraine has no financial liabilities within the framework of the agreement. "As is the case with the Kyoto Protocol, raising financial aid is most likely to be effected via instruments stipulated in Article 6 of the agreement, which foresees voluntary cooperation to boost ambitious activities to prevent climate change and ensure adaptation to it. This article provides for an algorithm to encourage a reduction in greenhouse gas emissions and support sustainable development. Due to its experience of work under the Kyoto Protocol, Ukraine has greater chances of attracting foreign investors for cooperation in various sectors of the economy to lower greenhouse emissions and allow the country to adapt to climate change," the note said.
The agreement shall become effective when at least 55 signatories to the Convention, which, according to estimates, jointly account for at least 55% of total global emissions, submit their ratification documents.
Read alsoUkraine signs historic Paris climate dealAs of today, 19 signatories, accounting for 0.18% of total global emissions, have already ratified the agreement. It is known that France and Hungary have gone through the ratification procedure, while other states that are EU members are actively moving in that direction to speed the document's coming into effect.
If you see a spelling error on our site, select it and press Ctrl+Enter