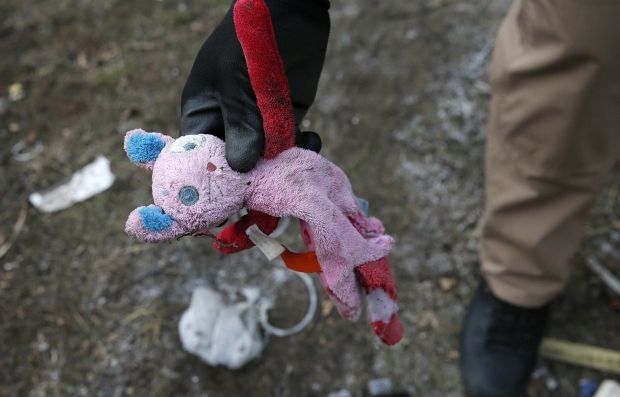 REUTERS
"Recently, they gave different numbers that indicated how many children have been killed in the war in Donbas. The difference between the figures was wide enough, so we decided to conduct our own research. We used the data of the [Ukrainian] Regional State Administration in Donetsk and Luhansk regions. We also took into account the data acquired by the so-called separatists' authorities, who allegedly engaged in the protection of the children. In total, based on the data from four sources, 166 Ukrainian children were killed in this war," he said in Kyiv on Tuesday.
In addition, there were 80 children on board the downed Malaysian Boeing 777 plane, he added.
Read alsoFive nations reiterate commitment to bring to justice those responsible for MH17 downingHe also stressed that children's protection remains an issue in the conflict zone.
"Today, 3,000 children still live in the so-called gray zone and nearly 21,000 children live in Ukrainian-controlled villages and towns on the frontline. We have taken into account the data of the Ministry of Education of Ukraine, according to which the number of internally displaced children in schools in Ukrainian territory has decreased by 10%. We can, therefore, talk about the backward process – internally displaced people have been returning to their territory, which, of course, is a threat to the life and health of the children," Petrenko added.
As UNIAN reported earlier, the Ministry for Affairs of Temporarily Occupied Territories and Displaced Persons reported that 45,000 children reside in the temporarily-occupied territory in Donbas.