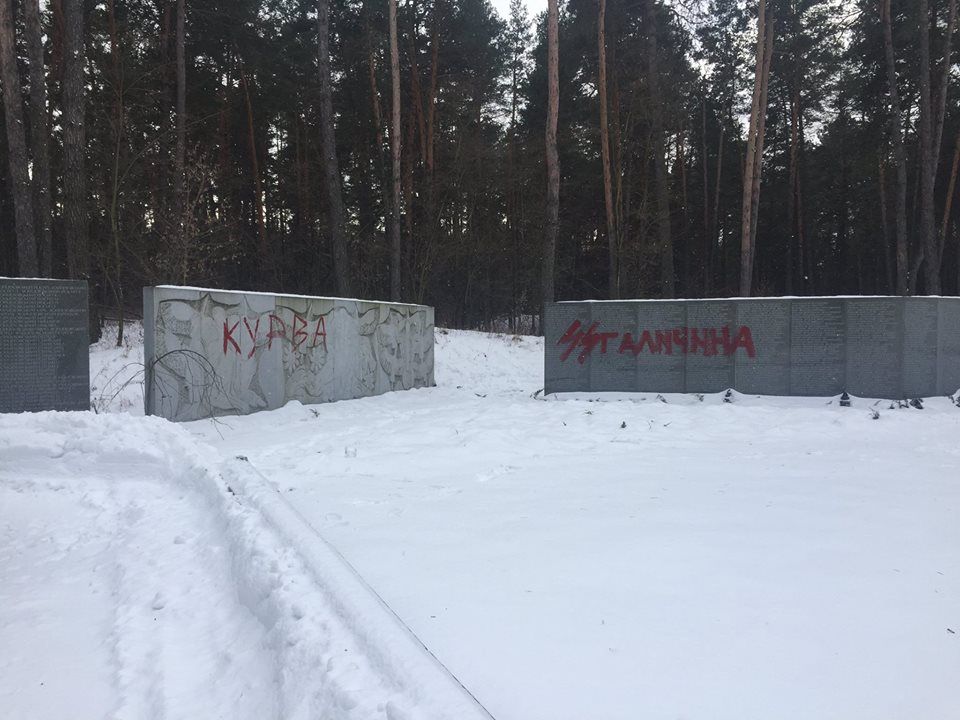 facebook.com/RadioSvoboda.Org
Buried at the cemetery near Kiev are tens of thousands of victims of totalitarianism, according to Radio Poland.
The vandals also attempted to destroy the entrance to the Polish war cemetery, the director of the site told the PAP news agency.
The incident took place on the night between Tuesday and Wednesday, and the paint was noticed in the morning. Local police have started an investigation at the site, the cemetery director said.
He added: "The Ukrainian and Polish part of the cemetery was [vandalized] with oil paint. In the Polish section of the site, the words 'SS Galizien' were painted, and the Ukrainian site was inscribed with the words 'OUN-UPA'." The latter refers to the WWII-era Ukrainian Insurgent Army.
Read alsoPolish police investigate Ukrainian flag-burning"There was also an attempt to destroy the [columns at the] entrance to the Polish part of the cemetery. Someone tried to topple them with a crowbar. One column tilted, while nothing happened to the other," he added.
The incident follows the recent vandalization of another WWII monument in Ukraine. The Polish foreign ministry demanded that the destruction of a monument to Poles murdered in 1944 in the village of Huta Pieniacka in Ukraine should be examined by authorities.
Following the report on the incident in Bykivnia, Ukraine's Foreign Minister Pavlo Klimkin issued a statement: "I strongly condemn desecration of Ukrainian and Polish memorials in Bykivnia. Nothing is sacred for provocateurs, and they will be held accountable," Klimkin said.