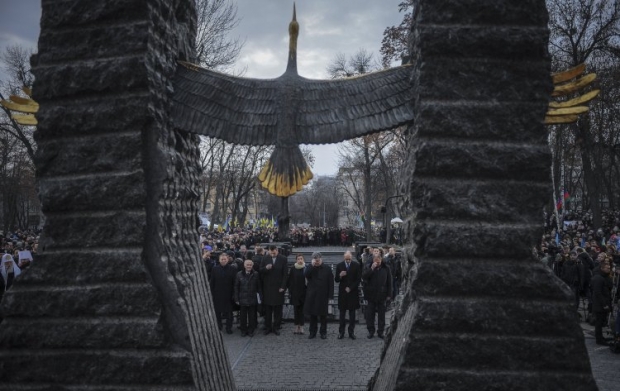 The bronze figures of storks soaring from the base of the Holodomor monument in Kyiv represent the rebirth of Ukraine / Photo from UNIAN
"Think Doctor Zhivago, except instead of the Russian Revolution, this film is set during the Holodomor – the famine that killed millions in Ukraine in the 1930s and that shadows the country's relationship with Moscow to this day," Mike Eckel wrote in his article titled "A Love Story Set Amid The Holodomor, Ukraine's 20th-Century Famine, Hits The Big Screen," published by RFE/RL on February 4.
The film is being released – in U.S. and British theaters this month – amid another tumultuous chapter in the relationship: nearly four years of conflict between government forces and Russia-backed separatists that has left more than 9,750 dead in the east, and the Crimean Peninsula in Russia's hands.
Canadian-Ukrainian director George Mendeluk insists that his film is first and foremost a love story.
"It in some ways pays homage to Doctor Zhivago: The love story is up front, the Holodomor in the background," said Mendeluk, 68, whose film credits include the 1980 political thriller The Kidnapping Of A President.
But the film, featuring British actors Max Irons, Samantha Barks, and Terence Stamp, takes on a subject that many Ukrainians consider a genocide, a catastrophe engineered by Soviet leader Josef Stalin to consolidate communist power and wipe out any inkling of Ukrainian independence.
"The movie takes on a different dimension now, because even though in the film we talk about Stalin, and we show Stalin and how he orchestrated this artificial famine, what really is evident now is that, with the invasion of the Crimea and eastern Ukraine, it's the same old story, but repeating itself," Mendeluk said.
Untold On Film
Hearty peasant men scything golden sheaves of wheat. Ruddy-faced women lugging bags of grain on their backs to windmills standing under cloudless skies. A man and woman kissing passionately in a forest, giving way to scowling Red Army soldiers on horseback.
These are some of opening scenes of the film, which tells a fictional story of an artistically inclined peasant boy named Yuri (played by Irons) who is separated from his childhood sweetheart Natalka (played by Barks).
He struggles to return to her as the Red Army enforces Stalin's order aimed at collectivizing Ukraine's agricultural output, a policy that resulted in famine and millions of deaths – through hunger, summary executions, or exile to Siberian labor camps.
Read alsoRada urges world nations to recognize Holodomor of 1932-1933 as genocideThe film ends in 1933, when the death toll reached its climax.
Richard Bachynsky-Hoover, the film's co-author, said he first came up with the story concept in 1999 when he traveled for Ukraine for the first time.
Raised in Ontario, Canada, by second-generation Ukrainian immigrants, Bachynsky-Hoover, 59, aspired to be an illustrator but ended up working odd jobs in construction. Later, he became a small-time actor, appearing in Canadian TV shows and movies, including a 1999 film directed by Mendeluk.
The year earlier he had married the daughter of a Ukrainian immigrant, leading him to travel to Ukraine in 1999 and begin to learn about his ethnic heritage.
The screenplay went through 12 different scripts before the writers settled on a final version, and filming began in the summer of 2013, Mendeluk said. Many of the key scenes of Ukrainian countryside and bucolic villages were filmed on the grounds of an outdoor ethnographic museum in Pyrohiv, a village located 45 minutes from Kyiv.
A Tragedy Exposed
The subject of the famine of 1932-33, which struck many grain-producing areas of the Soviet Union, is fraught with controversy when it comes to Ukraine. The widespread belief there – held furtively during the Soviet era and aired openly after independence in 1991 – is that famine was man-made, engineered by the Politburo under Stalin's leadership to bring independence-minded Ukrainians to heel.
The result was that Ukrainians would suffer greater losses during the famine than any other Soviet republic. From 2.4 to 7.5 million Ukrainians died, depending on the source; some estimates push the toll even higher.