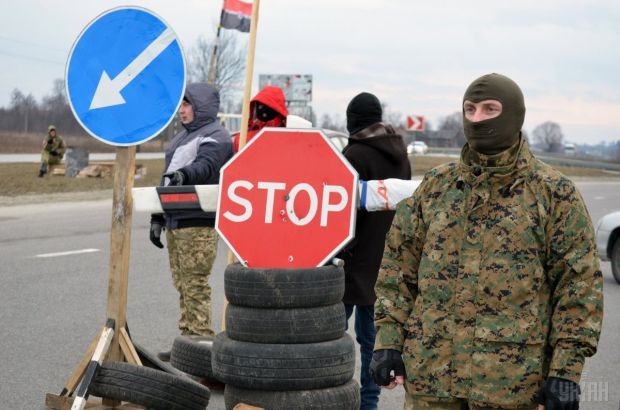 Photo from UNIAN
Fifty-one out of 84 council members voted on Tuesday, February 14, for addressing this issue to Ukrainian President Petro Poroshenko and the Verkhovna Rada, Ukraine's parliament.
"We are aware of the degree of the humanitarian disaster experienced by civilians in eastern Ukraine since the beginning of the occupation by the Russian Federation of part of Ukrainian territory. We believe that humanitarian aid must be strictly and regularly delivered to residents of Donbas. Ukraine as a state must ensure that the civilian population have all they need most: food, medicine, electricity, heat and water," they said in the address.
Read alsoCabinet may introduce state of emergency in energy sector due to blockade in Donbas"But it is evident today that the Russia-controlled fake republics use corrupt schemes to fill their own budgets used to sponsor terrorists. Weapons, drugs, counterfeit products (namely alcohol, tobacco, medicines) are smuggled from the uncontrolled into Ukrainian territory," they said.
"We believe that any trade and economic relations allowing militants to send their goods onto the Ukraine-controlled territory should be immediately stopped amid the war unleashed by the Russian Federation against Ukraine. Therefore we see a trade blockade as an effective way to influence the militants and their Russian supervisors," Lviv regional council members said.
Read alsoRada chairman Parubiy on vote in Donbas: Impossible nowLocal deputies also demanded that control over traffic of people and commodities from the temporarily occupied areas should be toughened.
They also stressed the need for a large-scale investigation into granting permits for wholesale shipments of goods from the occupied Donbas to the territory of Ukraine and insisted on a moratorium on the transportation of products other than humanitarian cargo delivered to the occupied areas under the supervision of authorized representatives of the OSCE or with the participation of the International Committee of the Red Cross (ICRC).
"We, members of Lviv regional council, represent the interests of the region's communities that have sent 16,000 mobilized servicemen to fight against the aggressor. The armed conflict unleashed by Russia in eastern Ukraine has claimed 269 lives of our countrymen. We cannot stand aside when some have to struggle for their state at war while others use it for shamelessly doing business. We consider it inadmissible to politicize this issue and require strict adherence to current legislation, a proper investigation and prosecution of those liable," they said.