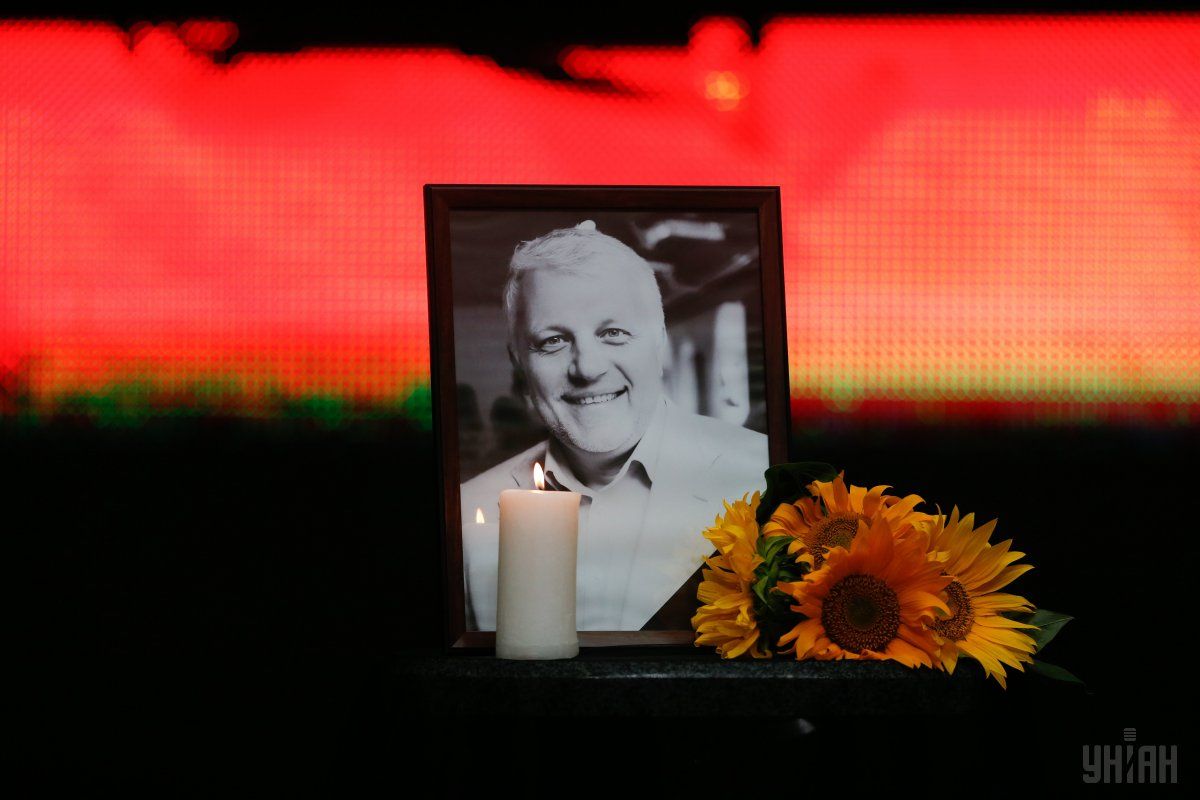 Photo from UNIAN
"Authorities say they are committed to solving Sheremet's murder," Nina Ognianova, CPJ's Europe and Central Asia program coordinator, writes in the introduction to the report titled "Justice Denied: Ukraine Comes Up Empty In Probe Of Pavel Sheremet's Murder," according to RFE/RL. 
"But [they] offer no clear evidence to back their primary line of investigation of Russian involvement," she says.
Read alsoOfficial hints at links between deadly blasts killing journalist Sheremet in Kyiv, SBU operative in MariupolThe report, written by Kyiv-based reporter Christopher Miller, an RFE/RL correspondent, says the shocking attack brought pledges by Ukrainian officials of a swift investigation. "It is a matter of honor to take all measures to solve this crime as soon as possible," Ukrainian President Petro Poroshenko said after the killing, which he called "a terrible tragedy."
But with no public announcements of progress in the case after one year, observers have blamed officials for "incompetence, negligence, sabotage -- or a combination of all three," the report says.
Interior Minister Arsen Avakov said on May 24 that one of the officers investigating Sheremet's killing had made a "mistake" that required all evidence gathered in the case to be reexamined.
The report adds that top Ukrainian police and security service officials have blamed one another for destroying video evidence crucial to the case, while Sheremet's friends, relatives, and colleagues say investigators have not thoroughly questioned them.
Read alsoPoroshenko demands public investigation report on journalist Sheremet's murderAvakov said at a February press conference that the investigation indicated that Sheremet's death was a "contract killing, the order for which came from Russia." But no evidence of such a link has yet been presented.
Russian officials have rejected any involvement in the bomb attack.
Ognianova says in the report's introduction that the CPJ is "demanding answers" about Sheremet's killing, which more than a dozen of the journalist's friends, relatives, and colleagues said they believed was carried out by Ukrainians, the report adds, in the wake of incidents "documented" by CPJ, including ultranationalist groups verbally assaulting journalists and, in some cases, CPJ says, Ukrainian security officials, including Avakov, defending the actions of the attackers.
One of the best leads in the case was the identification of Ihor Ustymenko, a former Ukrainian Security Service (SBU) agent who was seen on video outside Sheremet's apartment at the time the bomb was thought to have been planted on the journalist's car.
He was interviewed by the police but Ustimenko, who worked for the SBU until 2014, was not arrested after claiming he had been providing security for someone's children who lived near Sheremet's apartment.
Even Poroshenko said he also was "dissatisfied" with the investigation thus far. "I'm not happy that we still have not caught the killer, and he is not held accountable," he said at a press conference on May 14.
The CPJ says Ukraine has a poor record in solving the killings of journalists: it says seven Ukrainian journalists have been killed for their work since 1992, and in five of those cases no one has been convicted.