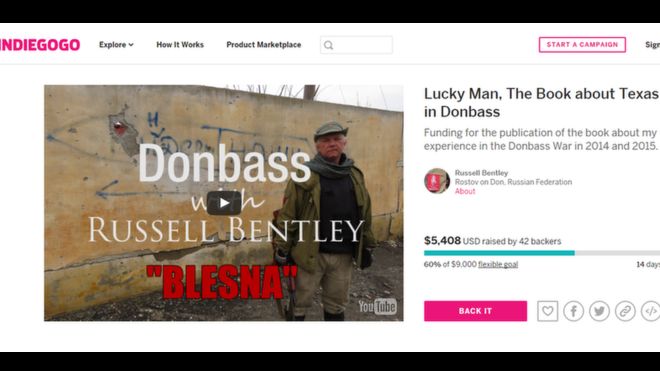 Russel Bentley / IndieGoGo
Among the separatists are a number of Westerners, drawn to the country by the conflict and financing their adventures using crowdfunding websites – sometimes in apparent violation of website rules and Ukrainian laws, the BBC reports.
One of the most prominent is Russell Bentley, a Texas native who describes himself as a pro-Russian communist. When the conflict started, Bentley was working as a lumberjack in Austin. Yet by December 2014, he had reached the epicenter of the conflict – armed with a rocket propelled grenade launcher and tasked with repelling Ukrainian forces at Donetsk airport, a key strategic position.
From the start, Bentley has relied on crowdfunding websites to finance his exploits. In November 2014 he launched a GoFundMe page to finance a "fact finding mission" to Donbas, the conflict zone that includes the eastern Ukrainian regions of Donetsk and Luhansk. Bentley raised $2,000 and hasn't returned to the United States since.
After spending six months fighting with separatists on the front line, Bentley was reassigned and now works, he says, as an "information warrior" - producing regular pro-separatist propaganda videos on the Ukrainian war.
Bentley isn't a one-off. Other Westerners have been using online crowdfunding to finance their activities in eastern Ukraine since the conflict started.
Among them is 38-year-old Graham Phillips from Nottingham. Since November 2013, Phillips has been covering the conflict, broadcasting amateur videos from Donbas, often in the midst of tearing bullets and toppling buildings. His daredevil style has drawn the attention of audiences, and he boasts 86,000 subscribers on YouTube. From 2014 to 2015, Phillips was employed by Zvezda - a media channel run by the Russian Ministry of Defense, and he also freelanced for the state-operated TV channel RT.
Read alsoSBU suggests criminal liability for enemy propaganda in Ukraine's mediaPhillips is highly critical of the Ukrainian government and appears to back the breakup of the country. Speaking on camera to Bentley in September 2015, Phillips accuses the Ukrainian government of "lies and propaganda", before adding: "I absolutely believe that we'll win in the end."
Since May 2014, Phillips has been forbidden from entering Ukraine, on the grounds of "national security". The Ukrainian government even took the unusual step of issuing an open letter to UK authorities, condemning Phillips' actions.
Unlike Bentley, Phillips has not engaged in combat, although he has been filmed navigating a drone with the help of soldiers in Donbas and has interviewed Ukrainian prisoners of war.
Phillips is not the only Brit who has traveled to the Ukraine conflict region. Earlier this month, Benjamin Stimson, from Oldham, Greater Manchester, was sentenced by Manchester Crown Court to five years and four months in prison for assisting separatist forces in Donbas.
Read alsoRussian propaganda in Germany tries to portray Ukraine as "failed state" – German MPPhillips works with a third pro-separatist videomaker – American-born Patrick Lancaster. Lancaster also describes himself as an independent journalist, and says his work is entirely funded through crowdfunding. Despite this, he seems to have raised less than $6,500 in the past eight months.
Lancaster's videos have been featured by mainstream media outlets and he has contributed to The Telegraph and Sky News.
However, some of his reporting has been openly hostile towards Ukraine and the West. Speaking on RT in February 2015, Lancaster said that the Ukraine's current president, Petro Poroshenko, is an enemy of the people.