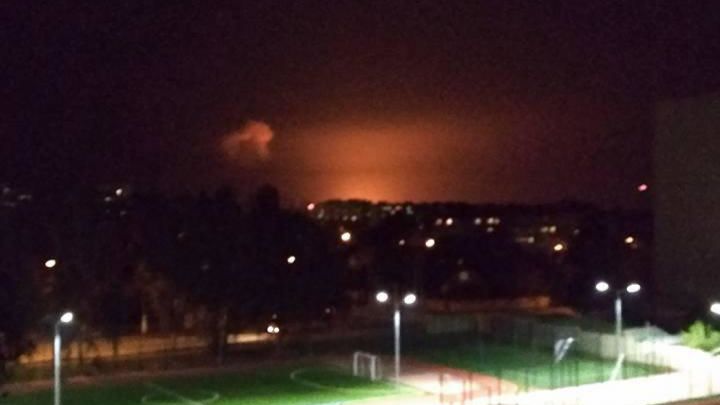 Explosions were reported in Kalynivka on Tuesday evening / Photo from Vesti
"Stocks of weapons and ammunition in the town of Kalynivka have caught fire with the subsequent detonation of the ammunition. We inform you that the city of Vinnitsa is not within the zone of destruction by the ammunition of the said depots," Vinnytsia Town Hall has said in a statement on its website.
"Please keep calm. The situation is under control of the regional and municipal authorities," it said.
Head of Ukraine's General Staff Viktor Muzhenko together with a group of officers has set out to the site of the incident in Kalynivka.
The first explosions were reported at 22:00 local time on Tuesday, September 26.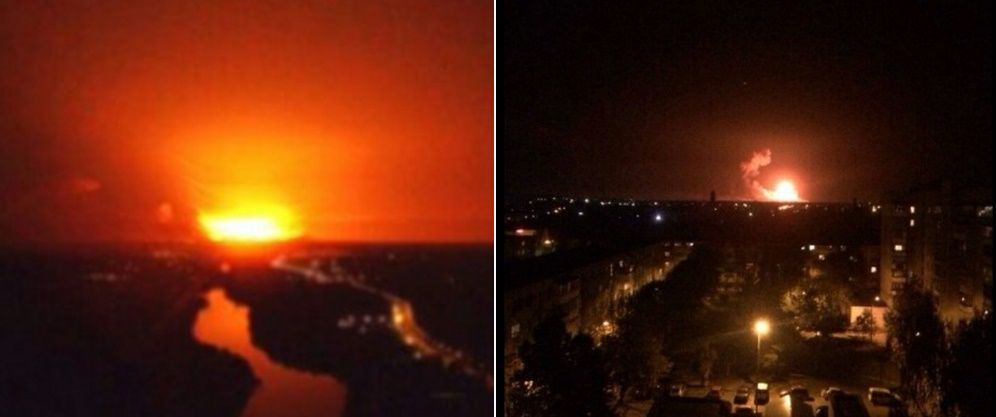 Explosions in Kalynivka / Photo from @nikitanegelev
Kalynivka is located 20 km from the city of Vinnytsia. The depots occupy 600 ha – 1,000 ha, according to different sources. It is the country's second largest stock of Ukraine's armed forces after Balakliya.
18+ video from @backandalive on Facebook
It is the fourth ammunition depot explosion incident in the past two years.
Blasts in ammunition depots in Balakliya in Kharkiv region were reported on March 23, 2017. The Svatove tragedy in Luhansk region, which started on October 29, 2015, with a fire, had a range of 10 km. It damaged over 3,000 private houses and about 60 high-rise blocks. Four people were killed.
The recent similar incident was recorded in the village of Novoyanysol in Donetsk region on September 22, 2017. The ammunition stock of the Mariupol military tactical group participating in the Donbas war was destroyed then.
Read alsoUkraine Defense Minister: Fire at ammo depot could be caused by sabotage"This is a heavy blow to the defense capability of Ukraine, which requires extraordinary measures and decisions," military journalist and editor-in-chief of the news outlet censor.net Yuriy Butusov wrote on Facebook late on Tuesday, commenting on the Kalynivka incident.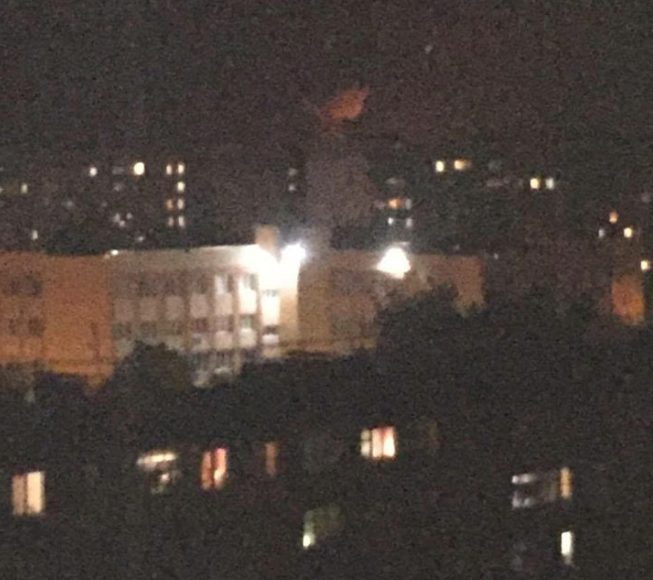 Ukraine's Interior Ministry on Facebook
Two firefighting tanks provided by a military unit of the Armed Forces of Ukraine are now engaged in eliminating the fire.
The emergency evacuation of local residents from neighboring villages and towns is under way. Police units from Vinnytsia, Zhytomyr and Khmelnytsky regions are engaged in the operation, according First Deputy Chief of the National Policy Vyacheslav Abroskin.
UkSATSE's Ukrainian Center for Airspace Management and Air Traffic Control has closed the airspace in a 50 km radius around the fire epicenter in Kalynivka from the surface to the unlimited height, Deputy Infrastructure Minister Yuriy Lavrenyuk wrote on Facebook in the early hours of Wednesday, September 27.
The traffic of the M21 highway between Zhytomyr and Mohyliv-Podilsky in Vinnytsia region is closed now for all types of vehicles, he added.