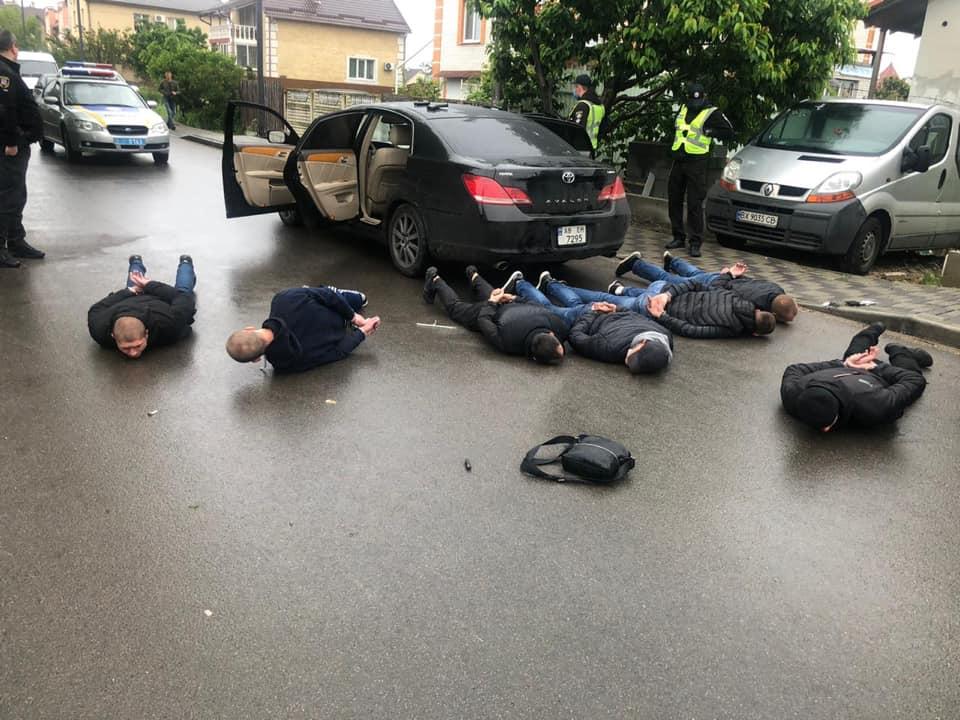 Detainees in Brovary / Photo from the National Police
Ukrainian Interior Minister Avakov has updated on a police response to a recent shootout incident in the town of Brovary on May 29, saying that 28 people have already been detained.
"At present, 28 people participating in the clashes have been detained, 22 of them have been served with charges, they have actually been arrested under Article 208," the minister said in a video address posted by the Interior Ministry's press service on May 29.
"We hope very much that with the support of prosecutors, the courts will issue rulings tomorrow to arrest them without any alternatives, and those people will go to jail for long," he said.
Avakov confirmed that the shootout was the result of a feud on the market of passenger transportation services between Kyiv and the suburban town of Brovary.
Read alsoInterior minister Avakov reacts to gang shootout in Brovary
He also informed that windows in apartments of local residents had been damaged during the incident.
Avakov said he would personally oversee the investigation of this case.
As UNIAN reported, a shootout incident between representatives of minibus transportation firms was reported in Brovary, Kyiv region, on the morning of May 29. Three persons were injured, two of them with gunshot wounds are in hospital now.
Law enforcement agencies began a pretrial investigation into the case under Part 4 of Article 296 (hooliganism), Part 1 of Article 263 (illegal handling of weapons, ammunition and explosives), Part 2 of Article 194 (intentional destruction or damage to property), as well as under Article 15, Part 2 of Article 115 (attempted homicide with two or more victims) of the Criminal Code of Ukraine.