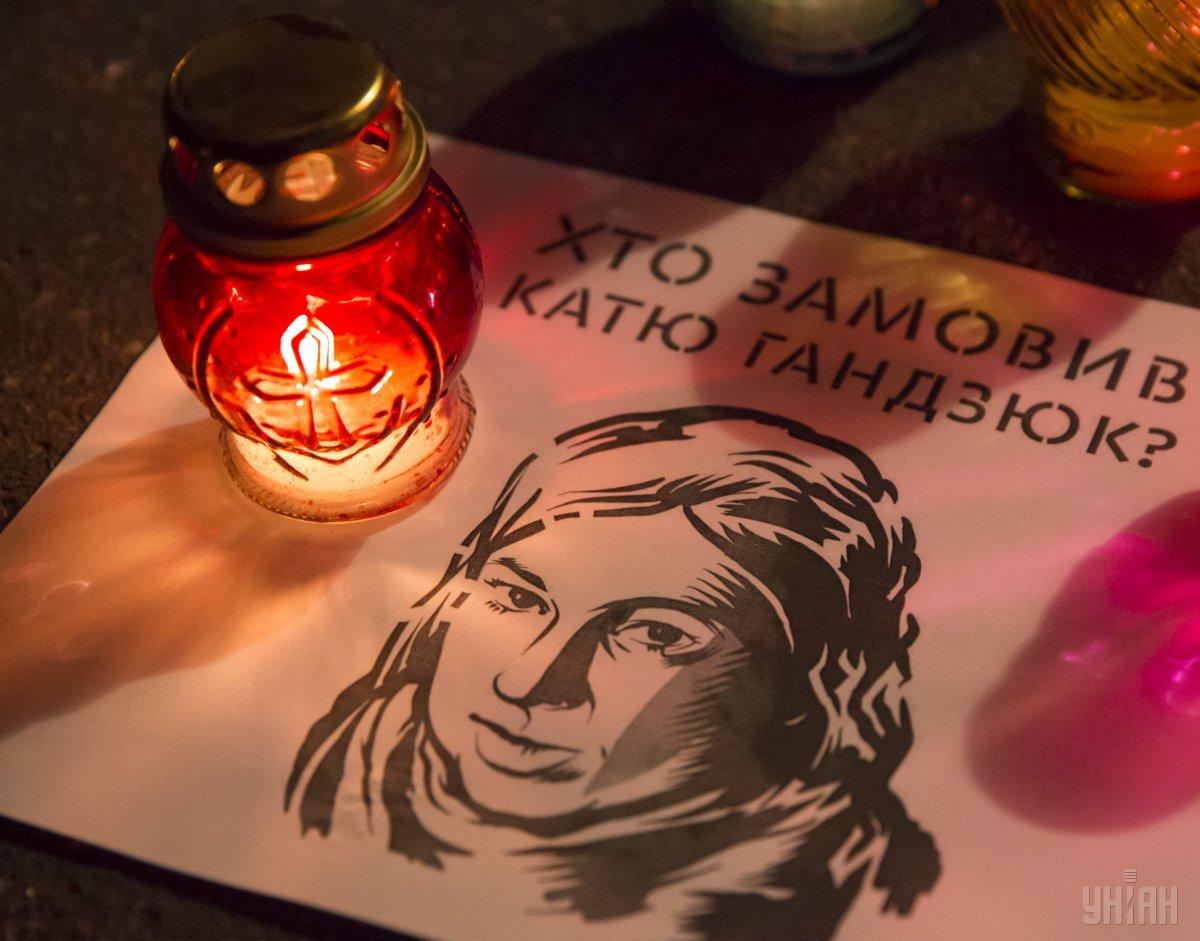 The court session will continue on June 15 / Photo from UNIAN
Kyiv's Pechersky district court has authorized the compulsory delivery of Chairman of Kherson Regional Council Vladyslav Manger, one of the suspects in a fatal acid attack on Kherson activist Kateryna Handziuk, to a Kyiv court.
The ruling was announced by judge Tetiana Ilyeva, according to an UNIAN correspondent.
He will be brought from Kherson to Kyiv for hearings on prosecutors' motion to select a preventive measure for him.
Read alsoUkraine's PGO chief on Handziuk murder: Prosecutors didn't want to probe case
The court session will continue on June 15, a new hearing is scheduled to begin at 09:30 Kyiv time.
UNIAN memo. Kherson activist, advisor to the Mayor of Kherson and acting manager of affairs at Kherson City Council's executive committee Kateryna Handziuk, 33, on July 31, 2018, survived an acid attack. She suffered burns to more than 35% of her body and underwent 11 operations in Kyiv. Handziuk died on November 4, 2018.
The immediate cause of her death was a severed blood clot resulting from the acid attack. Police originally qualified the attack as an attempted murder committed with extreme cruelty, then its status was changed to completed murder. Six suspects were detained, one of whom, Mykola Novikov, was later released from custody as charges against him had been dropped.
On May 7, 2019, the Prosecutor General's Office sent an indictment against five defendants in the case of the murder: Mykyta Hrabchuk, Volodymyr Vasyanovych, Vyacheslav Vishnevsky, Serhiy Torbin, and Viktor Horbunov.
On June 6, 2019, the court announced their sentences. Torbin, the organizer of the murder, was sentenced to six years and six months in prison. Hrabchuk, the actual perpetrator of the crime, was sentenced to six years in prison. Accused of aiding, Vasyanovych and Horbunov were sentenced to four and three years in prison, respectively; accomplice Vishnevsky's sentence is four years' imprisonment.
Oleksiy Levin, who has a criminal record, as well as Chairman of Kherson Regional Council Vladyslav Manger and Ihor Pavlovsky, who was an assistant to MP Mykola Palamarchuk, are also suspects in the Handziuk murder case. Moreover, public activists believe that former Chairman of Kherson Regional State Administration Andriy Gordeev and former Deputy Chairman of Kherson Regional State Administration Yevhen Ryshchuk were involved in the crime. On January 27, Levin was put into custody in Bulgaria's Burgas for a 40-day term after detention on January 24. On February 22, the court of the city of Burgas (Bulgaria) ruled to extradite Levin to Ukraine. He was extradited on March 16 and Kyiv's Pechersky district court on March 17 ruled to remand him in custody until April 2. On March 25, Kyiv's Shevchenkivsky district court extended the pretrial probe into the Handziuk case until July 29.
Manger and Levin are suspected of committing crimes under Part 3 of Article 27, Part 2 of Article 28 and Part 2 of Article 121 of the Criminal Code of Ukraine.