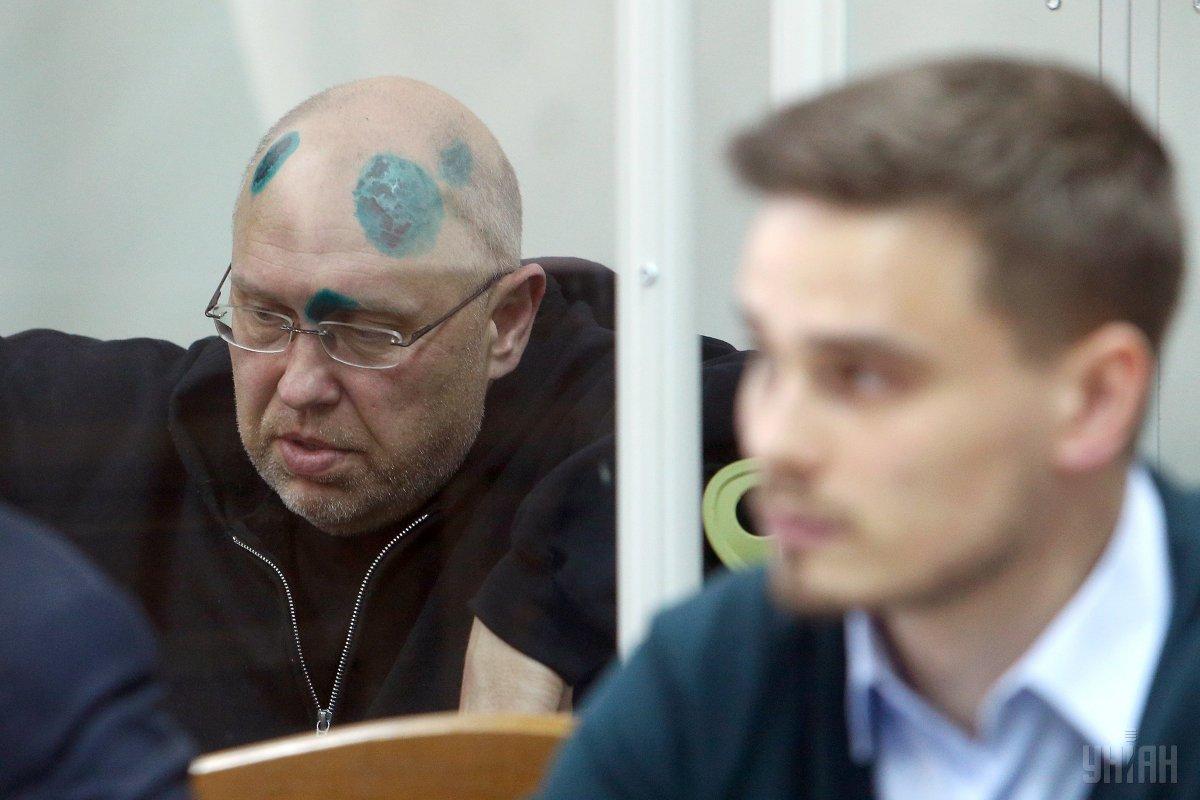 Photo from UNIAN, Oleksandr Synytsia
Former MP aide Ihor Pavlovsky, a key witness in the Kherson activist Kateryna Handziuk murder case, has finally spoken up in court, testifying against who he calls masterminds of the deadly acid attack: Chairman of the Kherson regional council Vladyslav Manger and his accomplice Oleksiy Levin.
The interrogation lasted about three hours on October 8, an UNIAN correspondent reports.
In particular, Pavlovsky said that he had overheard a conversation involving Levin where Handziuk was being discussed and where it was noted that she should be "taught a lesson". Levin reportedly said she's been "barking too much at Mykolayich [Manger]."
The witness also testified that at that time he, as an aide to MP Mykola Palamarchuk, was asked to write an appeal regarding Handziuk, but he declined.
Read alsoHandziuk murder: Suspects Manger, Levin to be held in custody until Oct 18Pavlovsky added that he had learned about the acid attack on Handziuk on July 31, 2018, while he was on vacation, and on August 3 or 4, a few days into the attack, an "anxious Levin ran into the lawmaker's reception office, where Pavlovsky worked and "asked if we had a lawyer."
"We asked what happened. He replied: 'They nabbed [Serhiy] Torbin [co-organizer of the attack on Handziuk, who hired the immediate perpetrators].' We asked why would they need a lawyer. 'They poured acid on Handziuk,' Levin answered. I asked: 'Why?' Levin replied that 'Mykolaich and I ordered Kateryna Handziuk]'."
Pavlovsky also said Levin had asked him not to tell anyone about this.
In addition, he said that on August 17 he witnessed how in his backyard Levin paid the perpetrators for the crime committed. He reportedly gave money to Torbin, who, in turn, distributed cash among perpetrators.
Pavlovsky also explained to the court why he had previously remained silent on Manger and Levin.
According to Pavlovsky, ahead of each hearing, someone would call and warn him not to testify against Manger, threatening him that his family and his daughter would have problems. There were five to seven such calls, Pavlovsky claimed.
He also said that other witnesses – Shcherbinin and Pylypenko – received similar threats, and that the latter was even slapped in the face.
Pavlovsky has testified that Levin offered him EUR 20,000 for silence.
Lawyers for Levin and Manger believe Pavlovsky gave false testimony under pressure from the prosecutor's office, which took advantage of his health condition, promising to provide treatment at the SBU pre-trial detention center, where he is being held as part of an investigation into another criminal proceeding – into organizing mass riots in the city of Oleshky.
Handziuk case in brief
Pavlovsky signed a deal with an investigation, vowing to testify against masterminds behind the murder.
Earlier, Pavlovsky was cleared of charges of involvement in the deadly attack on Handziuk. He has been charged with failure to report a crime.
Since July 2019, the court had been unable to start hearings over the failure of Pavlovsky or his lawyers, or the prosecutor to appear in the courtroom.
Kherson activist, advisor to the Mayor of Kherson and acting manager of affairs at Kherson City Council's executive committee Kateryna Handziuk, 33, on July 31, 2018, survived an acid attack. She suffered burns to more than 35% of her body and underwent 11 operations in Kyiv. Handziuk died on November 4, 2018. The immediate cause of her death was a severed blood clot resulting from the acid attack.
On May 7, 2019, the Prosecutor General's Office sent an indictment against five defendants in the case of the murder: Mykyta Hrabchuk, Volodymyr Vasyanovych, Vyacheslav Vishnevsky, Serhiy Torbin, and Viktor Horbunov. On June 6, 2019, the court announced their sentences. Torbin, the organizer of the murder, was sentenced to six years and six months in prison. Hrabchuk, the actual perpetrator of the crime, was sentenced to six years in prison. Accused of aiding, Vasyanovych and Horbunov were sentenced to four and three years in prison, respectively; accomplice Vishnevsky's sentence is four years' imprisonment.
Oleksiy Levin, who has a criminal record, as well as Chairman of Kherson Regional Council Vladyslav Manger and Ihor Pavlovsky, who was an assistant to MP Mykola Palamarchuk, are also suspects in the Handziuk murder case.
Public activists believe that former Chairman of Kherson Regional State Administration Andriy Gordeev and former Deputy Chairman of Kherson Regional State Administration Yevhen Ryshchuk were also involved in the crime.
On January 20, 2020, Pavlovsky was detained in Kherson on suspicion of another case regarding the creation of a criminal organization; on January 21, Kyiv's Pechersky District Court placed Pavlovsky under custody.
On January 27, Levin was taken into police custody in Bulgaria's Burgas for a 40-day term after detention on January 24. On February 22, the Burgas court ruled to extradite Levin to Ukraine. He was extradited on March 16 and Kyiv's Pechersky district court on March 17 ruled that he should be remanded in custody until April 2. On March 25, Kyiv's Shevchenkivsky district court extended the pretrial probe into the Handziuk case until July 29.
On April 27, the SBU Security Service of Ukraine reported it had completed its pretrial investigation into the acid attack on Kherson activist Kateryna Handziuk and materials of the case would be forwarded to court. As per the investigation, Chairman of Kherson Regional Council Vladyslav Manger and Oleksiy Levin, an aide to a member of the same council, are suspected of ordering the crime.
Moreover, public activists believe that former Chairman of Kherson Regional State Administration Andriy Gordeev and former Deputy Chairman of Kherson Regional State Administration Yevhen Ryshchuk were involved in the crime.
This statement caused outrage among the victims, their lawyer Yevhenia Zakrevska, and the public. They are convinced that evidence against Manger has not been collected and the case will fall apart in court.
But Manger's defender, Dmytro Ilchenko, positively assessed the transfer of the Handziuk case to court. He argued that materials of the criminal case regarding the murder of the activist did not mention his client.
Manger and Levin are charged with offenses under Part 3 of Article 27, Part 2 of Article 28, and Part 2 of Article 121 of the Criminal Code ("intentional grievous bodily harm in a manner bearing the nature of special torment and resulting in the death of the victim").
On August 28, the first hearings took place to consider the case against Manger and Levin on merits.