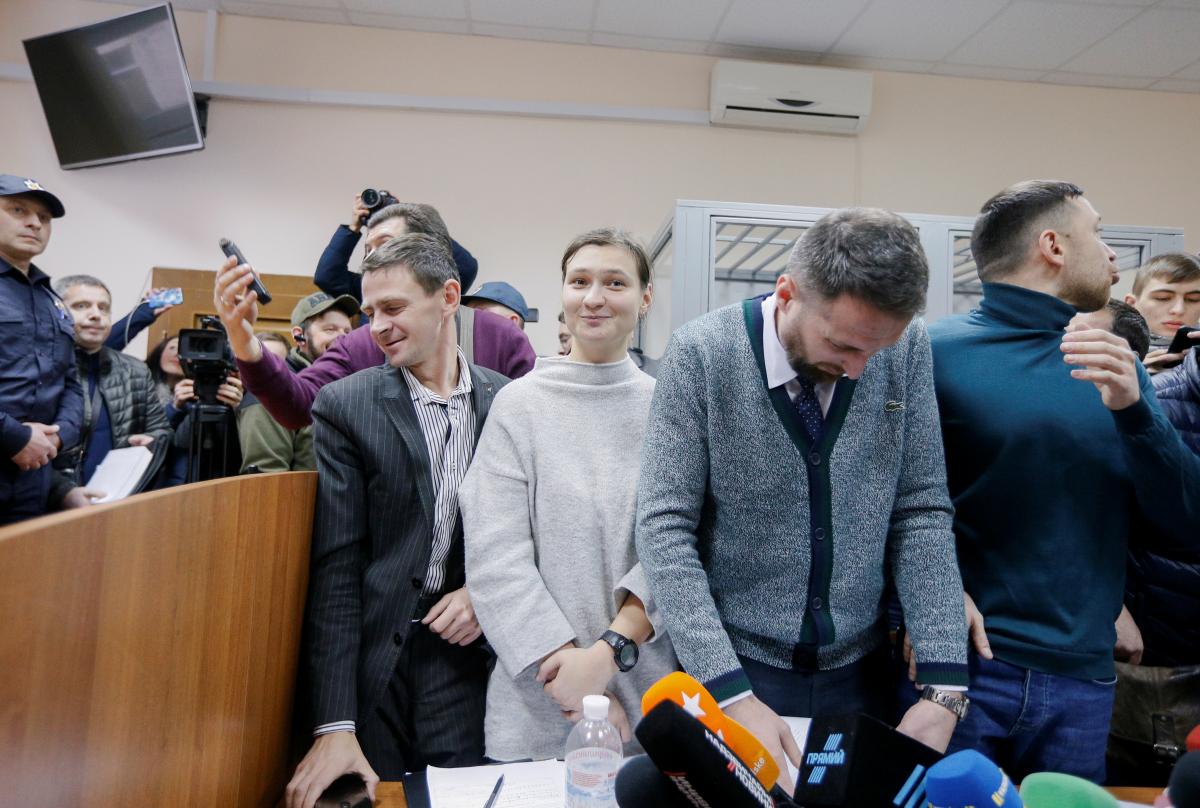 Yana Duhar / REUTERS
A Kyiv court has eased pretrial restrictions for one of the suspects in the high-profile 2016 killing of journalist Pavel Sheremet in the Ukrainian capital.
The Kyiv Court of Appeals on July 13 agreed to lift curfew restrictions for military paramedic Yana Duhar, Radio Free Europe / Radio Liberty (RFE/RL) reported.
The court also said Duhar no longer needed to wear an electronic monitoring bracelet.
But the court said she is still banned from communicating with witnesses in the high-profile case and must be present when summoned by investigators or prosecutors.
The court on July 13 also remanded Andrii Antonenko, another suspect, in custody.
Read alsoSheremet case: Appeals court rules to keep Antonenko behind bars
The third suspect, Yulia Kuzmenko, a pediatric surgeon, is also being held in pretrial detention.
Vladyslav and Inna Hryshchenko, a married couple who are suspected in another unrelated case, have been declared persons of interest in the case.
All five took part in military operations in different capacities in Ukraine's east, where government forces are fighting against Russia-backed forces.
The Interior Ministry and the National Police said in December that the group's goal was "to destabilize the political and social situation in Ukraine" by killing Sheremet.
As UNIAN reported earlier, Sheremet was assassinated in a car blast in the center of Kyiv on the morning of July 20, 2016.
On December 12, 2019, police said they suspected five persons of complicity in the crime: former Donbas war volunteer and musician Andrii Antonenko, army volunteer and pediatric surgeon Yulia Kuzmenko (nom de guerre "Lysa," or "Fox"), nurse with a paratrooper unit Yana Duhar, and a family couple of army volunteers Inna Hryshchenko ("Puma") and Vladyslav Hryshchenko ("Bucha").
Law enforcers claim that the goal of the Sheremet assassination was to destabilize the social and political situation in Ukraine. Antonenko, Kuzmenko and Duhar were notified of suspicion on December 12, 2019.
Ukrainian investigative journalists with the Slidstvo.info project said they had found the forensic analysis report used in the probe into the murder of Sheremet far from being unambiguous, while evidence presented by the police was unconvincing. What is more, many Ukrainian activists consider the proof collected by the investigators to be insufficient.