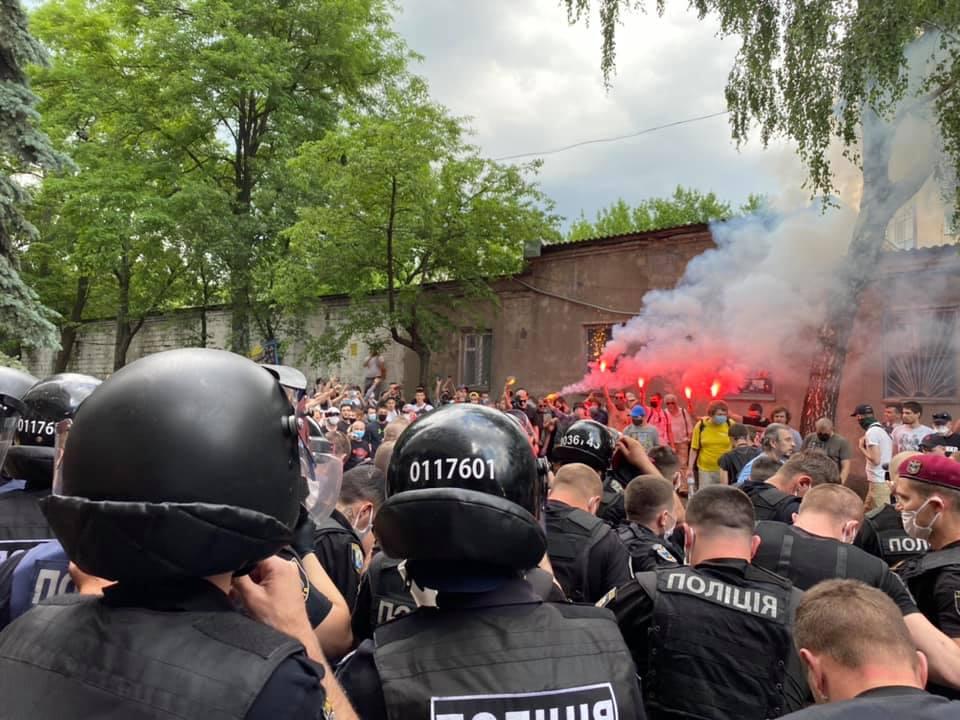 Facebook Yarema Dukh
Law enforcement officers detained five protesters who had been rallying outside a district court in Kyiv, where the judge is set to select a preventive measure in the case of Odesa activist Serhiy Sternenko who has been charged with homicide.
"At first, one of the men provoked a conflict with journalists, while others prevented the police from detaining the offender," the press service of the interior ministry reported.
The Interior Ministry said that the brawl between police and protesters erupted as one of the protesters was being apprehended.
Read alsoRight not to be killed: why is it still possible to be imprisoned for self-defense in Ukraine
"The most pro-active participants were detained. They are being taken to the police station to be identified and interviewed. After a preliminary check, their actions will be qualified from a legal perspective," the statement said.
At the same time, Kyiv PD chief Andriy Krishchenko told Ukrainian Pravda two of riot police officers were suspended from service pending probe into the possible use of excessive force during the clash with protesters. The investigation will be carried out by the State Bureau of Investigation.
UPDATE: MP with the Holos faction, Olha Stefanyshyna, reported on Facebook that all detained persons had been released from police custody in a few hours.
Facebook Yarema Dukh
As UNIAN reported earlier, on June 12, the court hearing on the selection of preventive measure regarding Sternenko was postponed to June 15.
An SBU investigator has requested that the court rule to impose round-the-clock house arrest.
UNIAN memo: The SBU pressed homicide charges against Serhiy Sternenko over the death of Ivan Kuznetsov, a person identified as one of the attackers who assaulted the Odesa activist in 2018.
The assault was the third one over the course of the same year, all of which Sternenko claimed were attempts on his life.
At the same time, as earlier reported by Ukrainian media, the attack on Sternenko, which turned out to be fatal for one of the two perpetrators, was qualified as "hooliganism, committed with the use of weapons or another item adjusted for inflicting bodily injuries."
The high-profile case has sparked public debate in Ukraine on whether Sternenko's actions were justified and whether the attacks on the anti-corruption activist were being properly investigated.