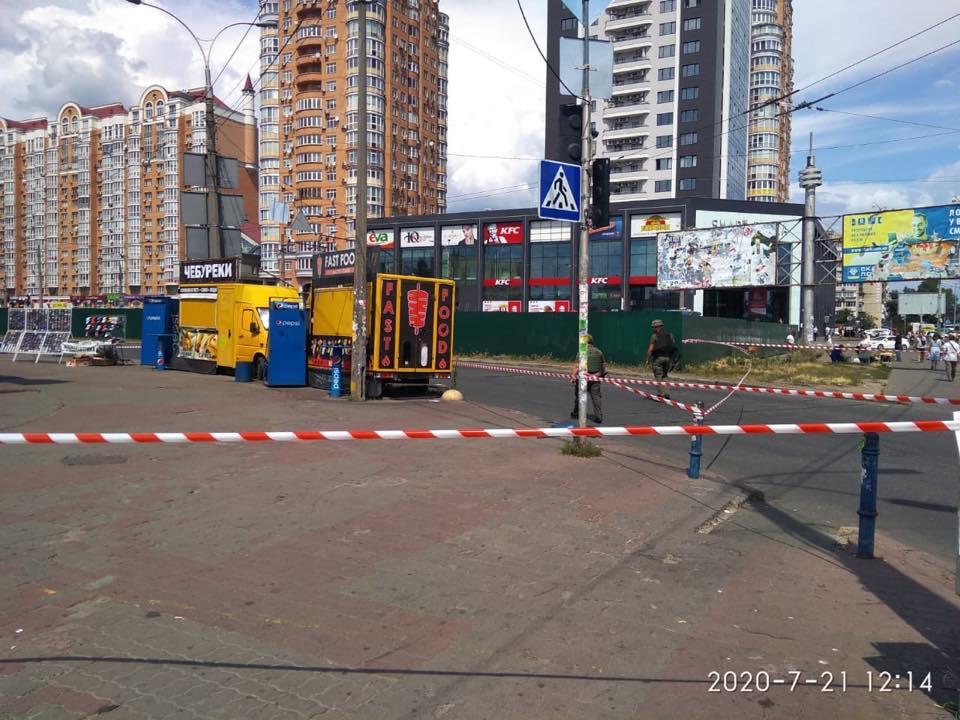 Improvised explosive devices were found near a subway station in Kyiv / Photo from facebook.com/Vitaliy.Klychko
Ukraine's Interior Ministry says it sees no links between an incident in Lutsk, where a terrorist took hostages on a bus, and improvised explosive devices (IEDs) found near the Minska subway station in Kyiv.
"Every day explosives are discovered here or there. Weapons are also found. It has nothing to do with this," Ukrainian Interior Minister Arsen Avakov said when asked whether there are links between the incidents in Kyiv and Lutsk, which happened on the same day, July 21, according to an UNIAN correspondent.
As UNIAN reported earlier, law enforcers were searching kiosks near the Minska subway station in Kyiv on Tuesday morning to check reports on planted bombs. They found a box with IEDs, which were disposed of and the remains were sent for forensic examination.
Kyiv Mayor Vitaliy Klitschko, in turn, informed that two improvised explosive devices had been seized during the inspection of the area near the station and had been later disposed of in an explosion.
In addition, the police later received anonymous reports on bombs planted in the building of Kyiv's Court of Appeals, the Ocean Plaza shopping mall, Kyiv's Central Railway Station, and Kyiv Sikorsky Airport (Zhuliany). All the facilities are being inspected by police officers.
At about 15:00 Kyiv time on July 21, Kharkiv region's police also received an email about bombs planted in local hospitals, supermarkets, shopping malls, banks, hotels, post offices, bus and railway stations.
What is more, law enforcement agencies in Odesa are also checking reports about bombs planted inside facilities of social infrastructure in that city.
Hostages trapped on a bus
As UNIAN reported earlier, an armed man took hostage passengers and the driver of a commuter bus in Lutsk, western Ukraine, on July 21. Shots were reported at the scene. Lutsk's Teatralna Square was cordoned off by SWAT units. The police said the terrorist had firearms on him along with an explosive device. According to the SBU Security Office of Ukraine, about 10 people are being held hostage. Later it was reported that there are 20 hostages there.
In the evening, the terrorist allowed a police officer to pass bottles of water to the hostages, who have been trapped on the bus for more than eight hours.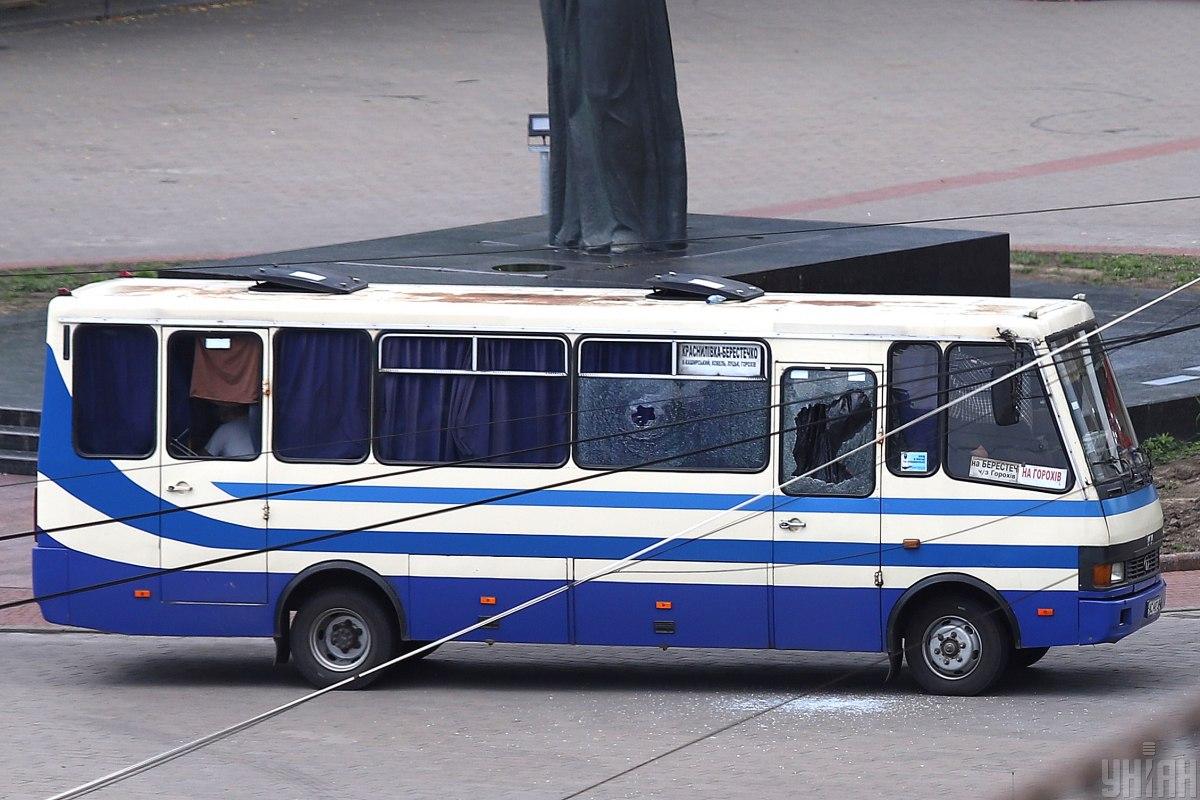 About 20 people are being kept hostage for over eight hours / Photo from UNIAN
City in lockdown
Nearly 100 members of the National Guard of Ukraine and special equipment are involved in an operation to free the captives. The center of the city is now in lockdown.
A criminal case under Part 2 of Article 147 (hostage-taking) of the Criminal Code of Ukraine was opened following this incident.
Lutsk terrorist: Facts about him
The criminal introduced himself as "Maksym Plokhoy" ("Bad Maksym"). Prior to the attack, he recorded a video and posted it on the web. The man said that "the state is terrorist No. 1." Now he demands that the chairmen of courts, ministries, prosecutors, parliament, churches, as well as Ukrainian oligarchs record statements and post them on their pages on social networks and YouTube that they are terrorists in the law. Also, he demands that President Volodymyr Zelensky record a video message.
Read alsoArmed man hijacks commuter bus in Ukraine's Lutsk, city center cordoned off (Photo, video, live from scene)
The police are currently negotiating with the terrorist. The man expressed his indignation with the existing state system, he refused to leave the bus or set the people inside it free. He also fired at law enforcement officers and attempted to open fire at a police drone, according to Suspilne Media.
According to media reports, the Lutsk terrorist who hijacked the bus with passengers has been identified as Maksym Stepanovych Kryvosh, 44, while "Maksym Plokhoy" is his nickname. He reportedly has two criminal records.
Interior Minister Avakov denied reports that Kryvosh had undergone treatment in a psychiatric hospital.