News COVAX Facility
Health ministry discloses price of COVID-19 vaccine for Ukrainians
Ukraine hopes to get about 8 million doses of the vaccine under the COVAX Facility.
12:40, 19 November 2020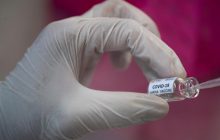 Some 4 mln Ukrainians to get free vaccines against COVID-19 in H1 2021 – Health official
COVAX has reportedly confirmed the reports on providing Ukraine with a free vaccine for COVID-19.
23:15, 18 November 2020
WHO outlines timeframe for supply of COVID-19 vaccine to Ukraine
Ukraine may get up to 8.34 million doses of the vaccine by the end of 2021.
22:59, 13 November 2020