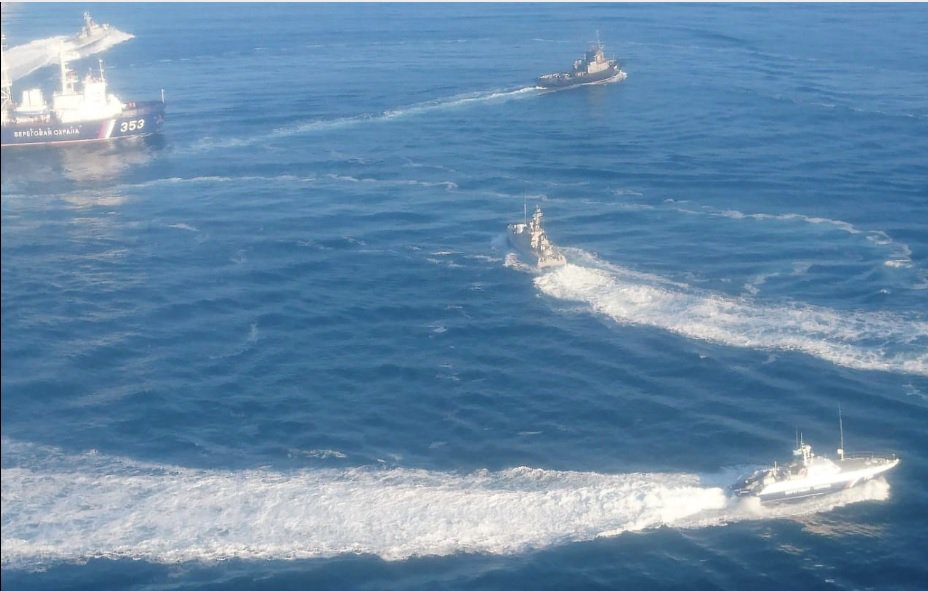 @Ukr_Che
Head of the General Staff of the Armed Forces of Ukraine, Viktor Muzhenko, stated that Russian coast guards had "fired to kill" when attacking Ukrainian ships that were by that time heading back to Odesa after they had received no information about the possibility of passing through the Kerch Strait.
"On November 23, the planned redeployment started of the Ukrainian Navy ships, boats and vessels from their permanent base in Odesa to a base in Mariupol," Muzhenko reported during a meeting of the National Security and Defense Council of Ukraine in Kyiv overnight Monday.
"In the course of the planned redeployment, on Nov 24, we received a message about the closure of the passage zone in the Kerch Strait area. There has been no confirmation of such closure from the international control center, which is located in Spain," he said.
Read alsoNumber of Ukrainian navy men wounded by Russians in Kerch Strait incident grows to six
Muzhenko noted that at 4:00 on Nov 25, two requests were made to the control room in the occupied Kerch about the possibility of Ukrainian vessels passing and on specifying the schedule of passage in the area of the Kerch bridge.
"No information, no response has been received, and they continued to move. Later, a message was received to move to the waiting area, where the order of passage under the arch of the Kerch Strait Bridge will be determined," the Chief of the General Staff added.
He noted that at 11:00 on Nov 25, a message came and a relevant information was reported by the international control center about the closing of the passage.
Read alsoRussia seizes three Ukrainian boats, two wounded; Poroshenko gathers Military Cabinet
According to him, this information was false, since at 13:40 – 13:50, a Russian ship and two Russian anti-sabotage boats passed under the arch of the Crimean Bridge, although it was reported that it was impossible to pass through the Kerch Strait due to the fact that the cargo ship had run aground.
He also added that, having received no information before 17:00, the Ukrainian Navy vessels decided to return to the permanent base, Odesa. "During the passage of ships from the waiting area to the point of permanent deployment, somewhere at a distance of 13-14 miles off Crimea coast, about 40 kilometers southeast of Kerch, the ships, which were accompanied by Russian ships and vessels, were fired upon and blocked as [Russians] fired to kill," added Muzhenko.
As UNIAN reported earlier, Ukrainian President Petro Poroshenko at a meeting of the National Security and Defense Council overnight Monday spoke in favor of introducing martial law in Ukraine against the background of Russia's outright aggression against Ukrainian ships. The move is to be considered by the Verkhovna Rada at its extraordinary meeting at 16:00 on Monday, Nov 26.