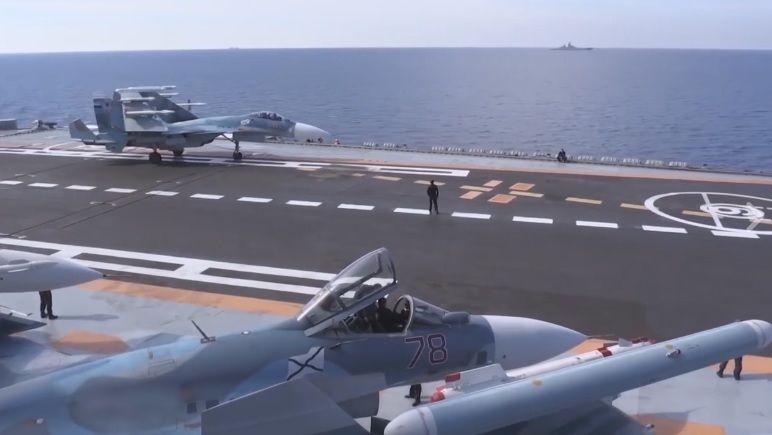 A Russian military build-up under way in occupied Crimea / Screenshot
Ukrainian President Petro Poroshenko says the number of Russian troops over four years of its occupation of Ukraine's Crimea has tripled, while the number of Russian aircraft, multiple rocket launchers and ships has grown by five to ten times.
Speaking in an interview with TV journalists on Tuesday evening, he also noted a sharp increase in the number of Russian warships in the Sea of Azov, an UNIAN correspondent said.
Read alsoPoroshenko says he tried to contact Putin after capture of Ukrainian boats in Black Sea
"We see that Russian ships are stationed throughout the entire water area in the Sea of Azov, but particular concentration is seen in the Kerch Strait area. That is – they knew, they were getting ready. These were targeted actions, with engagement of necessary aviation, electronic warfare, assault forces, special forces," the president commented on a recent incident when Ukrainian boats were attacked and captured by Russian forces near the Kerch Strait in the Black Sea.
Poroshenko also provided certain statistics about troops Russia deployed in Crimea from October 2014 to October 2018. "The number of soldiers has tripled, the number of armored personnel carriers has grown by five times, that of artillery systems by almost 10 times, aircraft, multiple rocket launchers, ships by at least five to ten times. The build-up is still under way now," the president stressed.
As UNIAN reported, three Ukrainian vessels were captured on November 25 by Russian forces at sea near the Kerch Strait, which is the only outlet to the Sea of Azov and controls access to two major Ukrainian ports. The two Ukrainian artillery boats and a tugboat were heading from Odesa on the Black Sea to Mariupol on the Sea of Azov.