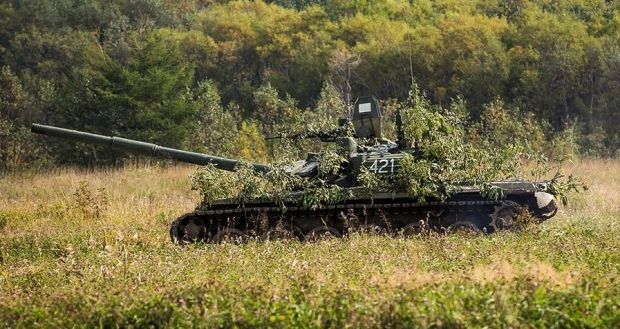 Russian defense ministry
Observers with the Organization for Security and Cooperation in Europe's Special Monitoring Mission say they have again documented the deployment by the Russian invaders of banned heavy weapons, including howitzers, anti-tank guns, Grad MLR systems, and tanks, beyond the designated withdrawal lines in Donbas.
According to an SMM's spot report published on the OSCE website, the Mission continued to monitor arms withdrawal stipulated by the Minsk Memorandum, as well as a set of measures to implement the Minsk agreements and an addendum on the withdrawal of tanks with weapons of over 100mm caliber.
On Aug 12, the mission's mini-UAV spotted four towed howitzers (D-30 Lyagushka, 122 mm) and two self-propelled howitzers (2S1 Gvozdika, 122 mm) near the village of Bile (22 km west of Luhansk).
Read alsoRussian-led forces violate ceasefire in Donbas 12 times on Thursday
On Aug 13, a mini-UAV discovered two anti-tank guns (MT-12 Rapira, 100mm) near the railway station in the village of Debaltseve (58km north-east of Donetsk).
In addition, on Aug 14, the SMM recorded four multiple launch rocket systems (BM-21 Grad, 122 mm) near the settlement of Novoamvrosiivske (56 km east of Donetsk).
Separately, it was said that based on aerial surveillance data available, 22 tanks were revealed at the training ground near Kruhlyk (31 km southwest of Lugansk) and five tanks – at the training ground near Shymshynivka (27 km southwest of Luhansk) Aug 11.
Also on Aug 14, a long-range SMM UAV spotted seven tanks (of an unidentified type) entering a training ground near Kruhlyk.