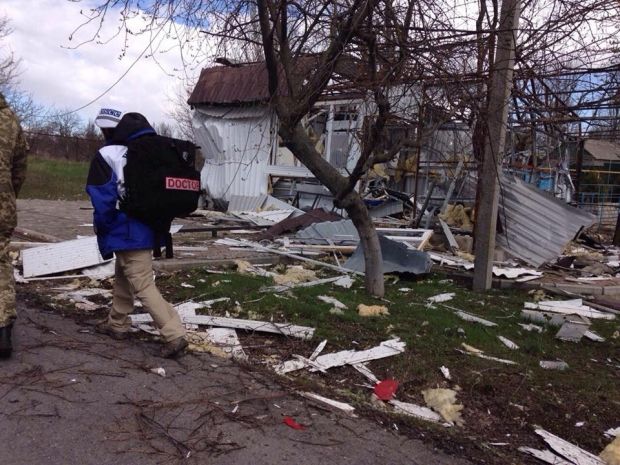 Houses and public buildings in Shyrokyne are completely destroyed beyond repair / Photo from facebook.com/oscesmmu
"We visited Shyrokyne. We conducted a patrol on foot throughout the village. The town has suffered even more damages than I witnessed during my last visit two weeks ago," he wrote on Facebook on Thursday.
"The purpose of the visit was to encourage the parties to further disengage in Shyrokyne, and to work towards normalization and demilitarization in the village of Shyrokyne and surrounding areas," he wrote.
According to him, a great number of houses, including the school, the Palace of Culture and other public buildings are completely destroyed beyond repair.
In the village, there are many landmines and ammunition that haven't exploded, he said.
"The only people who could be seen in the street are armed representatives of the so-called DPR," Hug said at a briefing on Thursday.
OSCE monitors estimate that huge efforts are needed to rebuild Shyrokyne and repair its facilities before civilians are able to return to a normal life there, Hug said.
According to him, the village is not under full control of DPR militants. The positions of the conflicting sides are very close to each other and, what is more, there are zones in the village not controlled by either of the sides as they are located in between.
He urged all the sides to respect the ceasefire and not to use violence over the Orthodox Easter period.