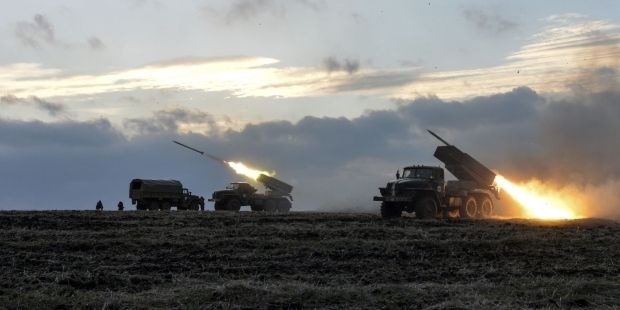 REUTERS
In the early hours of Saturday, pro-Russian militants were shelling the positions of Ukrainian troops and two villages in Donbas with the use of Grad multiple-launch rocket systems, the press center of the anti-terrorist operation (ATO) reported on Facebook.
"In the early hours of April 25, illegal armed formations in Donbas again shelled the positions of the ATO forces and villages with the use of Grad BM-21 multiple-launch rocket systems. From 0110 to 0115 Kyiv time and from 0210 to 0220 Kyiv time [on Saturday] the criminals launched 40 and 20 rockets respectively towards the position of Ukrainian troops near the village of Hranitne in Donetsk region. What is more, the militants used Grad systems to shell civilians for the second time in the past week: from 0230 to 0235 Kyiv time they launched 20 rockets from a Grad BM-21 system to attack the village of Starohnativka in Volnovakha district [in Donetsk region]," the ATO press center said.
The frequency of shelling by pro-Russian militants who use heavy weapons has increased recently, the source said. Last night alone, illegal armed formations used 120mm-caliber mortars to attack the Ukrainian army's positions near the village of Pisky [located near the destroyed Donetsk airport] and the town of Avdiyivka, while 122mm-caliber artillery systems were used to shell the village of Hranitne.
"Thus, despite broad statements about the need of a peace settlement of the Donbas conflict, the enemy continues to cynically violate the Minsk agreement on the ceasefire and the withdrawal of artillery systems with a caliber of more than 100mm from the line of contact. Particularly cynical and short of common sense is the militants' firing on civilians from artillery or multiple-launch rocket systems," the ATO press center said.