Poroshenko: Ukraine strictly observes Minsk truce, army not to attack first
Ukrainian President Petro Poroshenko says he hopes for the liberation of the occupied Ukrainian territory, but a military operation isn't an option, the presidential press service reported.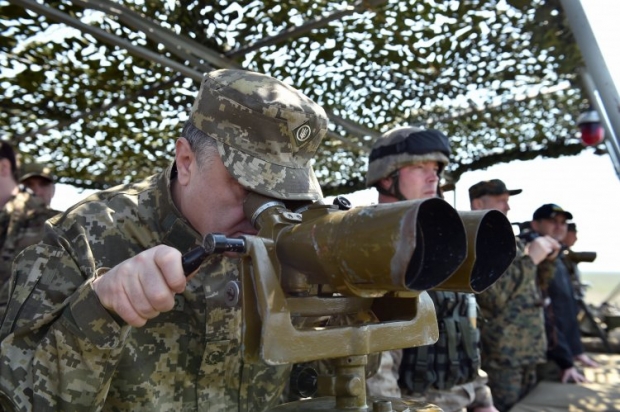 Poroshenko confirms Ukraine fulfils the Minsk accords / Photo from UNIAN
Answering a question whether beefing the Ukrainian army up can give hope for the liberation of Donbas in the near future, the president said: "I hope very much that we'll see this territory of Ukraine liberated, however, let me stress again – Ukraine strictly abides by the Minsk agreements, therefore the Armed Forces of Ukraine won't launch the offensive first."
Poroshenko also said that holding large-scale military drills at a training range near the city of Mykolaiv on Saturday is aimed at strengthening Ukraine's defense capacity.
The president pointed out to the professionalism and skills of all those servicemen present at the training range, most of whom were mobilized soldiers.
"Those who were mobilized during the fourth wave of mobilization account for the lion's share of the servicemen. Look how professional they have become in 1.5-2 months," Poroshenko said, addressing the journalists present during the drills.
"We are getting prepared to defend our country. There is an aggressor, the enemy in Ukrainian territory, and we must do everything possible on our side to provide an effective defense. Those who have taken part in today's exercise have clearly demonstrated their high level," the president said.
"The Ukrainian military is now among the most combat-ready armies," Poroshenko claims.
At the same time, according to the president, despite the strengthening of its troops, Ukraine consistently adheres to its obligations under the Minsk agreements, which has been confirmed by independent observers' missions, whereas, on the contrary, the enemy has been violating all the agreements, denying OSCE monitors the necessary access. Such a behavior by the enemy gives Ukraine additional grounds to beef its defense up.
"We should be capable of repelling the enemy's attacks at any time," Poroshenko added.
If you see a spelling error on our site, select it and press Ctrl+Enter