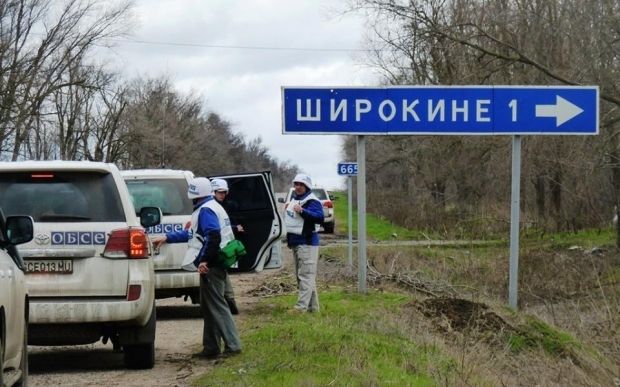 Pro-Russian militants launched firing on Ukrainian troops right after an OSCE mission had left / Photo from facebook.com/ato.news
It's the ninth time on Sunday, May 3, when pro-Russian militants started shelling Ukrainian troops positioned in the village of Shyrokyne, eastern Ukraine, using 152mm-caliber self-propelled artillery systems, the Defense of Mariupol organization wrote on its Facebook page.
"At 1815 Kyiv time the enemy began firing for the ninth time today on the Ukrainian positions in the village of Shyrokyne. 152mm self-propelled artillery systems are being used. As a result, residents of the eastern districts of Mariupol can hear powerful cannonade," Ukrainian online newspaper Ukrainska Pravda quoted the Defense of Mariupol as saying.
В 18.15 противник начал девятый за сегодняшний день обстрел украинских позиций в н.п. Широкино. Обстрел ведется из 152 м...

Posted by Оборона Мариуполя on 3 Май 2015 г.
In turn, the Donbas special-task battalion, which is now part of the National Guard of Ukraine, reported that militants had started shelling the positions of the Donbas battalion and the Armed Forces of Ukraine immediately after the departure of the OSCE mission.
"In addition to heavy mortars, which are frequently used here, the enemy has started using small arms, automatic grenade launchers, sniper rifles. The Donbas battalion, the Armed Forces of Ukraine, the National Guard troops have opened fire in response," the battalion wrote.
During the shelling, one Donbas fighter whose nom de guerre is Unter has been wounded from an automatic grenade launcher. "The soldier has been evacuated, he is being given first aid," the report said.
Another battalion on the spot, Azov, reported in turn that terrorists were intensively shelling the positions of the Ukrainian military in Shyrokyne, using howitzers, 120mm mortars, heavy machine guns, and self-propelled guns.
"Militants have been attempting to break through into the positions that are being guarded by the Azov regiment and the Donbas battalion. The Ukrainian military have been repelling the attacks. The fighting goes on. The city of Mariupol and its residents are safely protected," Azov wrote.