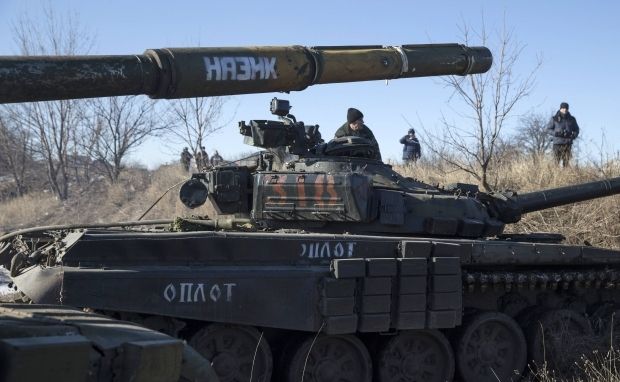 REUTERS
"An SMM Unmanned Aerial Vehicle (UAV) spotted three tanks in government-controlled territory and 30 tanks in "DPR"-controlled territory, all in or around villages close to the line of contact. Thirteen of these tanks were seen in or around "DPR"-controlled Sontseve (57km south of Donetsk). In addition, two mobile 122mm Grad 9P132 rocket launchers were observed 5km west of "DPR"-controlled Novoazovsk (43km east of Mariupol)," the OSCE SMM said in its recent report, Radio Svoboda said.
According to the monitors, despite claims that the withdrawal of heavy weapons was complete, the SMM observed the following weapons' movements/presence in areas that were non-compliant with the withdrawal lines: (i) in "DPR"-controlled areas, 31 tanks, one 100mm anti-tank cannon, and two Grad MLRS; and, (ii) in government-controlled territory, nine tanks.
A ceasefire was supposed to have come into force in Ukraine on February 15, three days after talks on implementing a previous peace plan were held in Minsk. Poroshenko and Merkel attended those talks, along with French President Francois Hollande and Russian President Vladimir Putin. However, the Russian-backed militants in Donbas broke the ceasefire within an hour, and went on to attack and capture from Ukrainian forces the town of Debatltseve on February 18.
Almost daily violations of the ceasefire have occurred since then, with the intensity of fighting rising sharply over the last two weeks, and many in Ukraine now expect a resumption of full-scale fighting before summer.
Fighting has been particularly intense in the village of Shyrokyne near the government-held city of Mariupol. The village, which is mostly held by the militants, includes strategic heights, currently held by government forces, that would be a military objective if the militants planned to move on Mariupol.