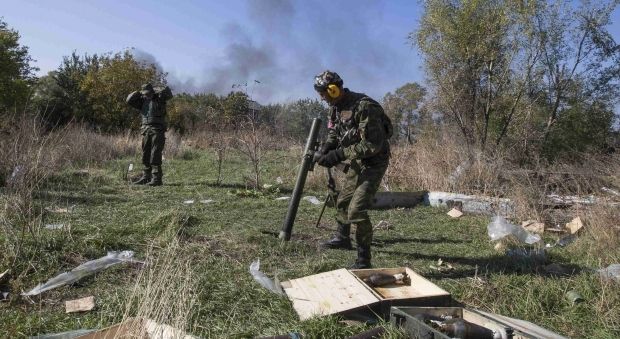 REUTERS
"There were 27 direct hits in territory of Avdiyivka coking and chemical plant and a train depot. A diesel locomotive caught fire after a shell had hit it. The fire was put out by plant workers," he wrote.
A body of a man, born in 1989, was found inside the damaged locomotive.
What is more, two women, both born in 1956, were wounded. All the people are employees of the Avdiyivka plant.
According to Abroskin, militants stopped firing and a team of Avdiyivka investigators left for the scene.
One Ukrainian soldier was killed and eight soldiers were wounded in the anti-terrorist operation zone in Donbas in eastern Ukraine in the last day. 
Обновлено. Обстрел боевиками Авдеевки прекращен.27 прямых попаданий на территорию Авдеевского коксохима и железнодор...

Posted by Вячеслав Аброськин on 21 Май 2015 г.