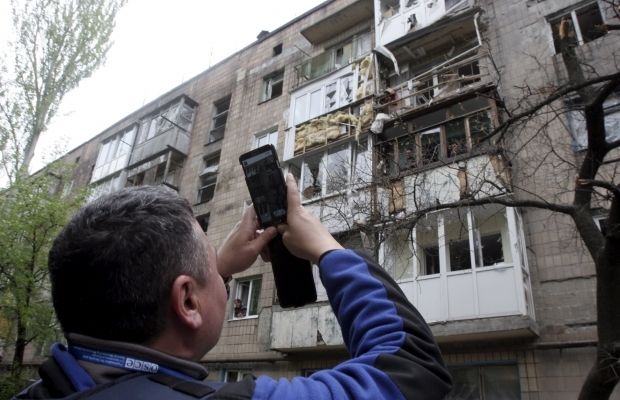 REUTERS
"In government-controlled Popasna (69km north-west of Luhansk), the SMM observed five fresh craters, which it assessed to have been caused by impacts from multiple-launch rocket system (MLRS) fire (122mm BM-21 Grad)," the update reads.
The SMM said they visited six "Donetsk People's Republic" ("DPR") heavy weapons holding areas. At four sites, all weapons previously observed were in situ. At one site "DPR" members requested to write the monitors' names down and did not allow the SMM to inspect weapons on the site, but only to count them from a distance of 20m. At one "DPR" site, six out of twelve towed howitzers and four out of nine 120mm mortars previously recorded were missing.
"Despite claims that the withdrawal of heavy weapons was complete, the SMM observed the following weapons movements in areas that are in violation of the withdrawal lines according to the Minsk Package: two main battle tanks (MBT) (T-72) on a flat-bed truck travelling west through Shakhtarsk ("DPR"-controlled, 50km east of Donetsk); a convoy of four armoured vehicles and 11 MBTs (T-72) proceeding east through Zuhres ("DPR"-controlled, 36km east of Donetsk).
An SMM unmanned aerial vehicle (UAV) detected a concentration of ten MBTs (unknown type) and 27 armoured vehicles in Komsomolske ("DPR"-controlled, 43km south of Donetsk), as well as four self-propelled artillery pieces (likely 122mm 2S1 Gvozdika) approximately 1km west-south-west of Vasylivka ("DPR"-controlled, 50km south-south-east of Donetsk).
According to the OSCE SMM, Donetsk airport and its environs saw an uptick in violence from recent days. Both Ukrainian Armed Forces and Russian Federation Armed Forces personnel at the Joint Centre for Control and Co-ordination (JCCC) observation post at the "DPR"-controlled Donetsk railway station (8km north-west of Donetsk city) told the SMM that there had been no ceasefire violations during the night of June 18-19 and until 1300 Kyiv time on June19.
Starting at 1300 Kyiv time, the SMM observed during a four-and-a-half-hour period 144 incoming and outgoing explosions, consistent with mortar and artillery fire, whilst at the Donetsk railway station.
The security situation was tense in Shyrokyne (20km east of Mariupol). From observation points just west of the town, the SMM saw and heard various explosions, outgoing and incoming mortar fire, as well as small-arms fire in the Shyrokyne area.