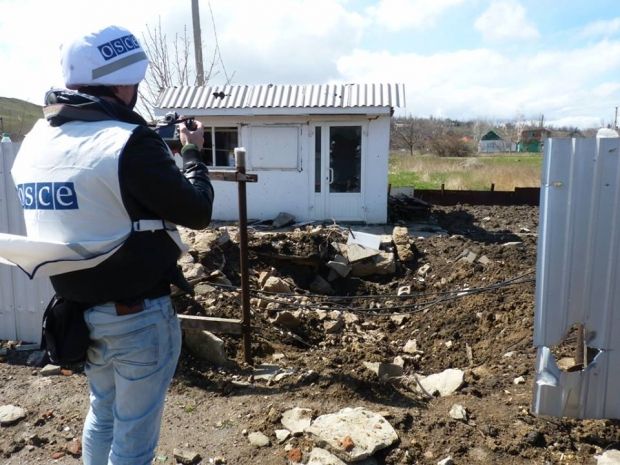 facebook.com/ato.news
In particular, some media reported on June 29 that the Ukrainian military had fired mortars on OSCE representatives near the village of Bezimenne, which is temporarily controlled by Russian-backed militants.
"We confirm that representatives of the OSCE mission came under fire at about 1500 near the village of Bezimenne. However, the military of the Ukrainian Armed Forces or the National Guard weren't involved in that crude provocation," the report reads.
"The senior officers of the Mariupol "M" sector bindingly announce that it was militants who shelled the OSCE representatives, having opened fire from 120mm mortars on observers of the international organization while they were moving from the town of Novoazovsk through the village of Bezimenne at about 1500. The positions of our troops near the village of Shyrokyne were simultaneously shelled at the same time," the ATO press center wrote.
The ATO headquarters said that the Ukrainian troops had nothing to do with that crime, as the village of Bezimenne was about ten kilometers far from the positions of our military, and they couldn't physically reach such a distance, firing from 82mm mortars. What is more, the Ukrainian Armed Forces have withdrawn 120mm mortars from the demarcation line in accordance with the Minsk agreements.
"Therefore, such a statement is just another cynical attempt by the Russian-backed militants to turn everything upside down. This is another attempt to find a reason to restart active hostilities," the report says.
As UNIAN reported earlier, the ATO press center said that the militants continued massing their forces, carried out rotation of personnel at certain units and secretly moved military hardware closer to the contact line.
Бойовики проросійських бандформувань й далі брутально порушують будь-які домовленості про деескалацію конфлікту на сход...

Posted by Прес-центр АТО on 29 Июнь 2015 г.