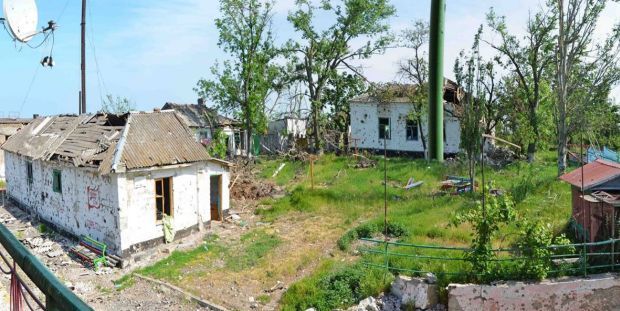 The destroyed village of Shyrokyne / Photo from the press center on Facebook
Asked about whether there were fears that the territory of Shyrokyne would become a bridgehead for Ukrainian armed forces after the withdrawal of the DPR troops, Zakharchenko said that it is now a trap rather than a bridgehead, 0629.ua reported referring to his interview with the separatist-controlled media outlet PRT.
"The terrain in Shyrokyne is lowland, where there are two dominating heights. One side of the village is controlled by Ukraine, the other one is under our control. We withdrew to a commanding point. Therefore, this can serve as a trap [for Ukrainian troops] rather than a bridgehead. There are no fears, as the terrain is sophisticated from one side, the positions are well-prepared, so these 1.5 kilometers play no tactical role but politically they are decisive," Zakharchenko said.
Thus, the portal wrote, Zakharchenko confirmed that the withdrawal of the DPR troops from Shyrokyne to the nearby dominating heights had been a political move pending the Minsk meeting on the settlement of the Ukrainian crisis on July 7.
As UNIAN reported earlier, Russian-backed militants withdrew from the village of Shyrokyne early in July. The OSCE Special Monitoring Mission to Ukraine confirmed their withdrawal.