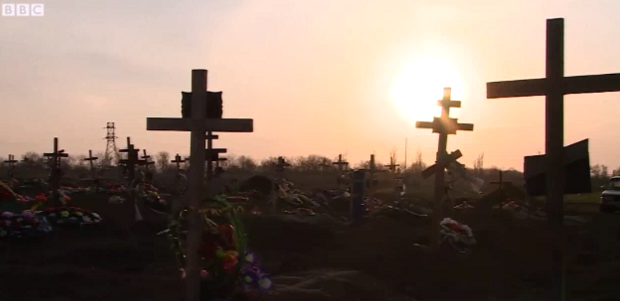 Screenshot from BBC video
Managing hundreds of requests from families across Ukraine, Black Tulip has found and identified 613 bodies of dead soldiers so far, according to the BBC Russian Service.
Ukraine's security service says more than 1,100 people are listed as missing because of the conflict in eastern Ukraine.
Black Tulip believes between 300 and 1,500 missing soldiers are still to be found. They also respond to requests from pro-Russian rebel commanders for their fighters to be returned.
"We are desperate for government support," the group's leader, Yaroslav Zhilkin, once a successful businessman, tells the BBC Russian Service journalist Olga Ivshina, whose team was the first to join the group on a recovery mission back in October, 2014.
The volunteers' challenging work is funded entirely by donations. The Ukrainian army tries to help them with fuel, but that is all. Over the past year Yaroslav has spent over $160,000 (EUR 147,000) of his own money to keep the project going and has already been forced to sell his watch to try to raise money.
"We need proper protection equipment and funding," Yaroslav says. "Our legal status needs to be sorted out, because volunteers have started having problems at work. "We may have to terminate our mission," he added, as at the moment Black Tulip has debts of almost $135,000.
Read alsoPolice searching for 926 missing Donbas residentsBefore the crisis, the 43-year-old Yaroslav would spend his spare time helping to search for the remains of soldiers who went missing during World War One and Two.
He never imagined that experience would become so useful - now in looking for soldiers killed in the current conflict.