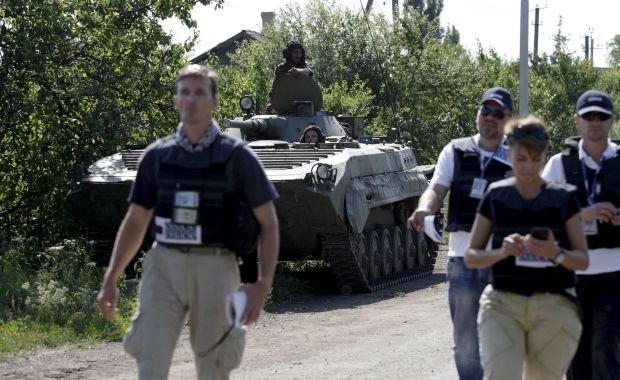 REUTERS
"At a Luhansk People's Republic training area near Krasnyi Luch (55km south-west of Luhansk) which is behind withdrawal lines, the SMM observed 43 multi-launch rocket systems (MLRS) (122mm BM-21 Grad), 16 self-propelled howitzers (122mm 2S1 "Gvozdika") and ten towed howitzers (152mm 2A65 Msta-B)," the OSCE SMM said in its September 16 update based on information received as of September 15, 2015.
In the Luhansk region, the overall situation observed by the SMM remained calm with one ceasefire violation recorded, the OSCE reported. In government-controlled Zolote 4 (60km north-west of Luhansk) the SMM heard two outgoing single shots of small-arms fire 1km north-east of its position.
The SMM observed movements of heavy weapons in areas that are in violation of respective withdrawal lines. At western outskirts of the "Donetsk People's Republic" ("DPR") -controlled Styla (35km south of Donetsk, 70km north-east of Mariupol), the SMM observed one main battle tank (MBT) (T-64) stationary in the yard of a private house. In "DPR"-controlled Serdyte (43km east of Donetsk), the SMM observed five MBTs (T-72) escorted by two military painted passenger vehicles (Lada) heading east.