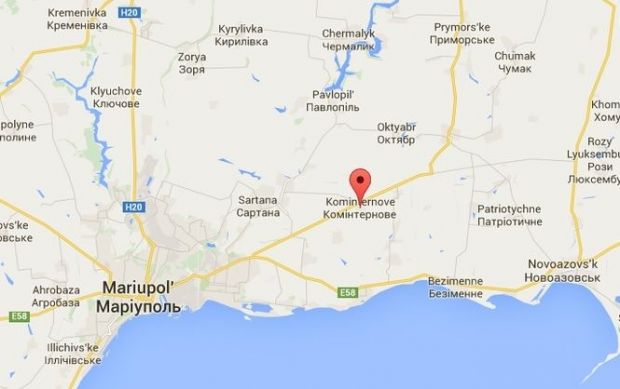 The recently occupied village of Kominternove is 23 km away from the Ukrainian city of Mariupol / Map
"The SMM attempted to reach Kominternove (23km north-east of Mariupol) to follow up on reports about the presence of  armed "DPR" members in  the village, but was not able to do so due to security concerns: the south-western and north-eastern entrances to the village  blocked with mines, trip wires, improvised explosive devices and unexploded ordnance," the OSCE SMM said in its update on December 23, which was based on information received as of 19:30 local time on December 22.
"At a checkpoint at the south-western entrance of the village, the Ukrainian Armed Forces commander told the SMM that in the early morning they had spotted the presence of five tanks, four 120mm howitzers, and 100-150 "DPR" members in the village. Earlier, a civilian resident had told the SMM by phone about the presence of armed persons in camouflage uniforms without insignia," the update said.
Commander of the Azov regiment, MP Andriy Biletskiy earlier said that the Russian proxies were setting up fortified positions near Kominternove. He said that about 12-15 units of militant armored vehicles as well as artillery reserves were deployed in Kominternove.
"They've started building their first fortified position in front of Kominternove, concreting facilities. They are pulling construction equipment, mining the roads and the area around. So I think they've occupied the village for the long haul," Biletskiy said.
TSN journalist Andriy Tsaplienko wrote on Facebook on Wednesday evening that local residents in Kominternove were not let either in or out of the village.
"Yesterday they allowed the people to leave [the village]. A woman was in charge of all that. The situation has changed today, and there is a new commander. The people are not allowed to either leave or enter. Yet, they treat [the locals] in a correct way, without threatening or insulting. They [the occupiers] say that the entrance and exit will be blocked for another two days. And then they claim the situation will change," Tsaplienko wrote, referring to information from local residents.
He also quoted the villagers who said that the number of the local DPR militants and Russian occupiers, who seized the village, was almost equal.
"The situation with food and water is bad. They have only let 30 loafs of bread be brought into the village," the journalist wrote.
When the villagers told the occupiers to leave the village – their response was that "they're under orders."
Meanwhile, speaker for the Ukrainian General Staff of the Anti-Terrorist Operation Vladyslav Voloshyn said that the Ukrainian army would not be able to retake the village as this would be a direct violation of the Minsk peace agreements.