OSCE SMM reports details about small-arms fire near Kominternove
08:45, 28 December 2015
War
The OSCE Special Monitoring Mission (SMM) to Ukraine reported about the single shots of small arms it heard while examining missile craters near the village of Kominternove, eastern Ukraine.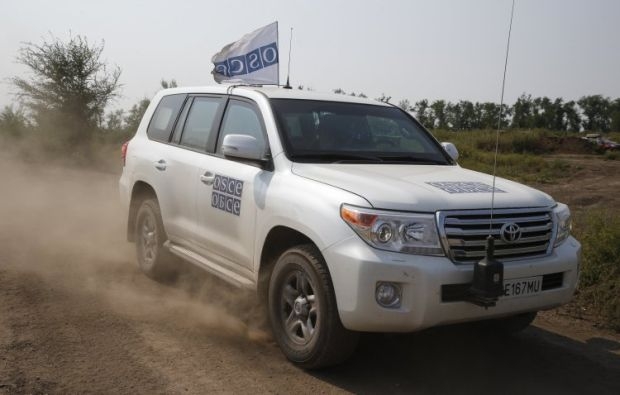 The OSCE reports no injuries to SMM members or damage to its vehicles / Photo from UNIAN
"At 10:53 hrs on December 27, an SMM patrol comprised of six SMM members in two armoured vehicles arrived at 3.5km south-south-west of the centre of Kominternove village (92km south of Donetsk, 23km north-east of Mariupol) from "Donetsk People's Republic" ("DPR")-controlled Zaichenko (90km south of Donetsk), escorted by armed "DPR" members and a Russian Federation representative of the Joint Centre for Control and Co-ordination (accompanied by a media representative). There, the SMM started monitoring on foot and found three craters in an agricultural – not cultivated – field. At 11:20hrs, while conducting analysis of the third crater, the SMM heard three single shots of small arms, outgoing 150-200m north-north-west of its position, and saw the third shot impact on the ground 5-7m north-east of its position," the OSCE SMM said in its sport report.
The SMM left the area immediately. On its way to its vehicles, the SMM heard a burst of small-arms fire originated from the same location.
"There were no injuries to SMM members or damage to its vehicles; the SMM returned safely to its base in Donetsk city at 14:39hrs," the report reads.
If you see a spelling error on our site, select it and press Ctrl+Enter