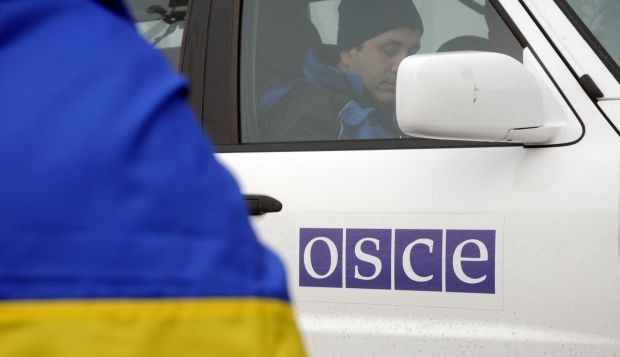 The OSCE says that its SMM is an unarmed monitoring mission / Photo from UNIAN
"The SMM is an unarmed monitoring mission. We are not a party to this conflict. We do not take sides. We do in fact have the political backing of all 57 OSCE participating states, representing every conceivable position and view in relation to this conflict. Our only objective is to bring this conflict to an end," Hug said at a press briefing on Friday.
Read alsoNormandy Four FMs agree "int'l component" should be present in DonbasAs UNIAN reported earlier, Ukrainian Foreign Minister Pavlo Klimkin announced after the Normandy Four foreign ministers' meeting in Berlin, Germany, on May 11, the parties agreed that the presence of an "international component" in Donbas is needed to ensure security.
The sides also discussed what the mandate of this mission and rules for it could be. They also touched on the issue of "a militarized component," he said.
Prior to that, the Berlin-based Federal Foreign Office of Germany as Chair of the OSCE issued a statement on April 27, 2016, in response to reports on alleged plans for an armed OSCE mission to eastern Ukraine, stressing that the OSCE monitoring mission currently in place in eastern Ukraine is a civilian, unarmed mission.
"This was decided by the 57 participating states of the OSCE, and neither Germany nor France are involved in any agreement about changing the civilian nature of the mission – neither within the OSCE nor in the Normandy format," the statement said.
"It is true that we have, in our capacity as Chair of the OSCE and following consultations within the Normandy format, asked the Secretariat to develop options for improving security at the planned local elections. It is too early to say what the findings will be. Without wishing to pre-empt any decision, we can say that we find it difficult at this time to imagine what an armed OSCE mission might look like that had the objective of effective ensuring the security of the elections in the separatist areas and enhancing the security of OSCE observers," the statement said.
The OSCE says it currently has no precedent for an armed mission. "On the contrary, being civilian in nature is a particularly important feature of OSCE monitoring missions, which require the consent of conflict parties to operate," it said.