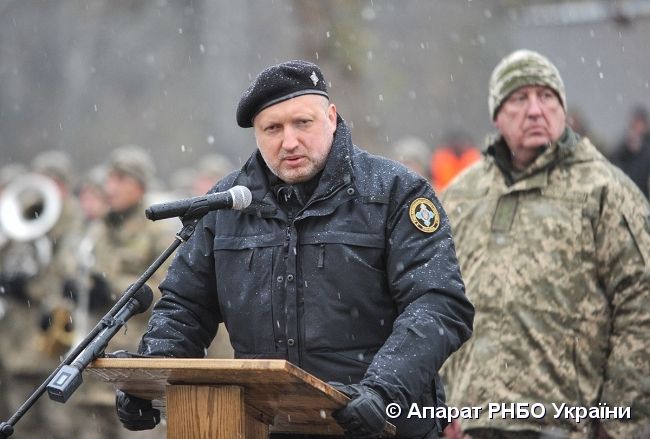 rnbo.gov.ua
"There is a conflict between various criminal groups that are part of the occupiers' administration in the occupied areas in the east of our country," Turchynov told journalists in Kyiv on Friday.
"In connection with this escalation, the Russian military leadership increased the Russian military contingent stationed in the occupied areas. This, in turn, caused certain problems, including military clashes we've heard of today," he added.
Read alsoPlotnitsky's escape leads to speculation about "LPR"-"DPR" merger – NGOAs UNIAN reported, Plotnitsky on November 20 dismissed his "interior minister" Igor Kornet, who, in turn, refused to obey the order.
On November 21, an armored personnel carrier and a group of armed men without insignia took positions outside the headquarters of the former Ministry of Internal Affairs in the center of the Russian-occupied city of Luhansk.
The OSCE Special Monitoring Mission to Ukraine said on November 21 its monitors had spotted a military column entering the Russian-occupied city of Luhansk, which was previously reported by social media users.
Ukrainian President Petro Poroshenko on November 21 convened an emergency meeting of the Military Office of the National Security and Defense Council in connection with the latest developments in the militant stronghold of Luhansk.
"In connection with the build-up of the Russian military, as well as more active moves by mercenaries, the Ukrainian Armed Forces are ready for any developments to ensure the safety of civilians," the president stressed.
On November 23, a motorcade with self-proclaimed leader of the terrorist group "Luhansk People's Republic" ("LPR") Igor Plotnitsky, head of his "administration" Irina Teizman, head of the State Television and Radio Broadcasting Company of the "LPR" Anastasia Shurkaeva and some other individuals left the occupied city of Luhansk. Later, Plotnitsky was reported to have arrived in Moscow from Rostov-on-Don.
Adviser to the Ukrainian Minister of the Interior Zorian Shkiryak announced on November 23 that Plotnitsky had left for Russia, after which regular Russian army units numbering about 1,000 servicemen, including special forces of the GRU and special forces of the Russian Interior Ministry, with heavy equipment, namely tanks, armored personnel carriers, artillery systems, had entered the occupied city of Luhansk.