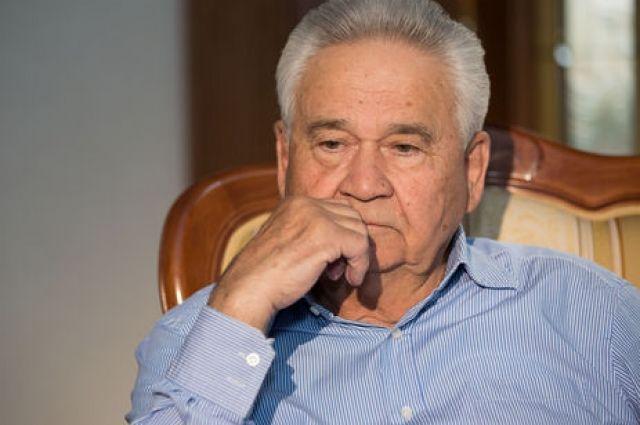 Snap from video
First prime minister of Ukraine Vitold Fokin, who has recently been appointed deputy head of the Ukrainian delegation at the Donbas settlement talks within the Trilateral Contact Group, believes "general pardon" is required today as a prerequisite to end the war.
"Another important question is about pardon. On both sides, many crimes have been committed that should ultimately be investigated, and let the perpetrators be prosecuted. But today, in order to end the war and save the lives of soldiers and commanders, my position is to declare general pardon, hold elections, resolve the issue of the special status of certain regions, and best of all, the entire Donbas," he told Strana.
Also, the delegate said he was ready to go for a working trip to the occupied areas, and that the idea saw support from the chief of Ukraine's delegation, Leonid Kravchuk, who was the first president of Ukraine.
Read alsoRussia trying to shift Donbas settlement talks away from Normandy Four to TCG – Ukraine delegate"Moreover, given specific security guarantees, [Kravchuk] is ready to go with me to Donbas. I haven't met the president, so I don't know his opinion," Fokin added.
He clarified that he was ready to communicate with the local warlords if tasked with president or parliament.
"Special status" for Donbas" background
A "special status" for Donbas, or the law on a special procedure for local government in the occupied areas, is a cause of concern for Ukrainian society, although officials reassure the public they will make no moves in this regard until Russia pulls its troops from the country's east.
The Kremlin has been exerting constant pressure on Kyiv, demanding that the law be passed without Moscow fulfilling its obligations to withdraw troops, military equipment, and hand control over the border sections in the region back to Ukraine.
The existing law on local government in certain areas of Donbas on December 12, 2019, was extended until December 31, 2020.
Pardon for enemy forces in Donbas: legislation
According to Ukraine's law on pardon, full or partial release of persons from criminal prosecution, may be considered only after the legitimate authorities have been elected in the territories that are now temporarily occupied in Donbas, that is, after Ukraine's sovereignty has been restored there.
"The decision to apply amnesty shall be made by court. Of course, amnesty doesn't cover crimes that, under international law, refer to genocide, crimes against humanity, as well as war crimes. Persons who committed a crime when they downed Malaysia Airlines' Boeing shall not fall under pardon, either," Deputy Foreign Minister Vasyl Bodnar said earlier.