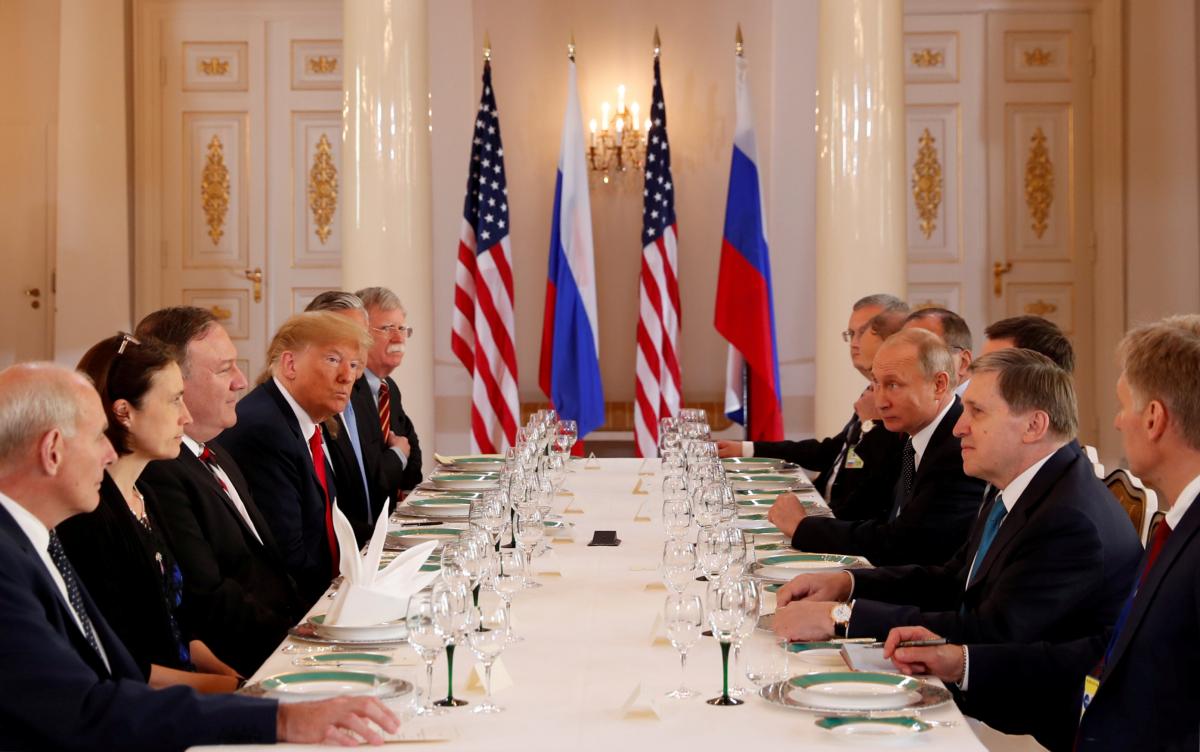 REUTERS
During a working bilateral lunch with the Russian delegation following a 2-hour long eye-to-eye meeting with Russian President Vladimir Putin in Helsinki on Monday U.S. President Donald Trump told reporters that the summit so far was off to a "good start."
"I think it's a good start, a very good start for everybody," he said when asked how the meeting went, according to CBS News.
The U.S. delegation present at the working lunch with Mr. Trump included U.S. Ambassador to Russia Jon Huntsman, Secretary of State Mike Pompeo, Chief of Staff John Kelly, National Security Adviser John Bolton and National Security Council adviser Fiona Hill.
CBS News' Margaret Brennan reports that Hill, a Putin biographer and former intelligence office, is clear eyed in terms of the current threat Russia poses to the U.S. and was given a prominent position at the summit on Monday by Bolton deliberately.
Read alsoTrump: Relations with Russia never been worse thanks to "U.S. foolishness"
Bolton himself has also negotiated with Putin during the Bush years.
Also in the room is Anatoly Antonov who not only negotiated the new START treaty with the Obama administration but is also a general currently under sanctions in the EU and Canada for having helped direct operations in Ukraine to annex Crimea, Brennan reports. He told CBS News last year that he can't get meetings with U.S. officials in D.C.
Next on the schedule is the two leaders head to their joint press conference within the next hour to mark the conclusion of the summit.
As UNIAN reported earlier, on Monday, July 16, Helsinki is hosting the first ever Trump-Putin summit where the two leaders said they were set to discuss a wide range of foreign policy topics.
Ahead of the meeting, the U.S. Grand Jury within the "Russia collusion" probe issued indictments against 12 GRU [military intel] officers of the Russian Federation over the DNC hack.