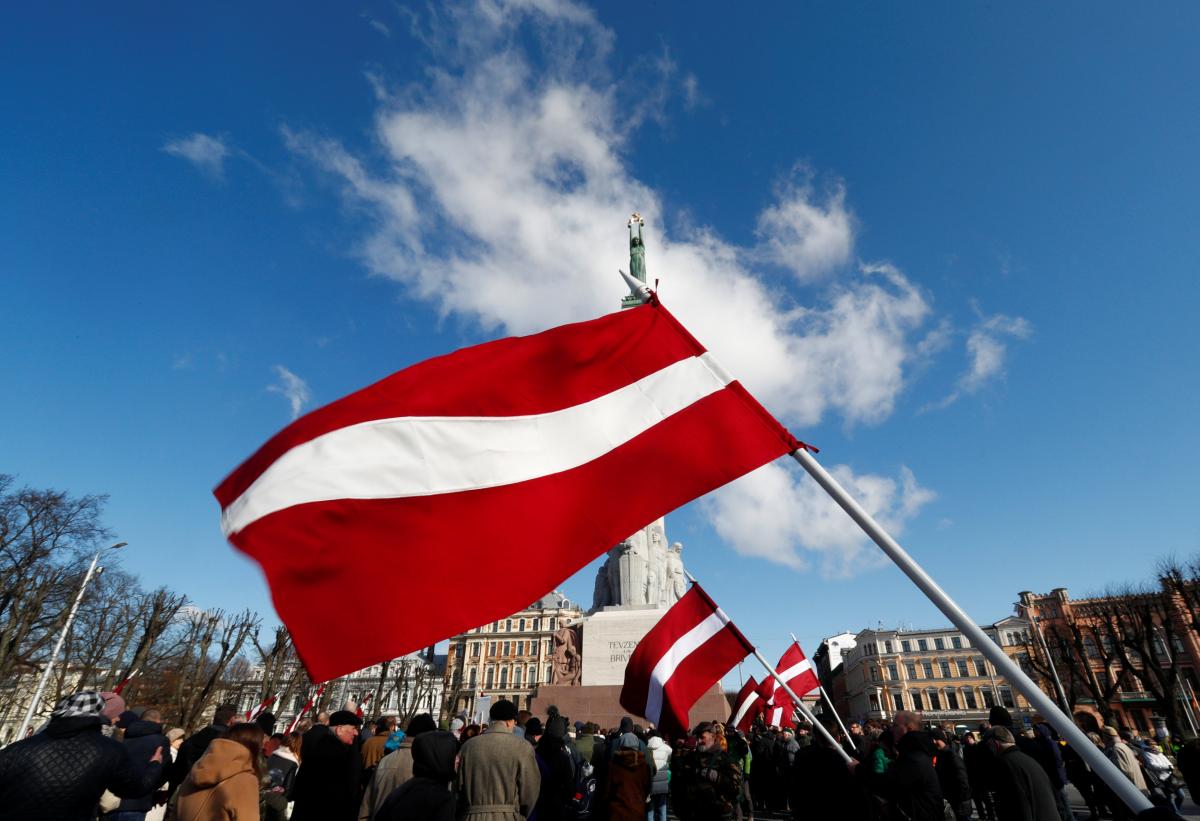 REUTERS
The prevalence of Russian in public life is one reason why Latvia's government has passed a law that will limit Russian as a language of instruction in the country's schools, beginning next year. The move by the tiny Baltic nation has angered not only members of Latvia's sizeable ethnic Russian minority, but Moscow as well. Russia's foreign ministry called the decision "odious."
"Our constitution states the state language is Latvian, whereas at home, you can speak your mother tongue freely, no objection whatsoever," said Rihards Kols, who represents the nationalist National Alliance party in the Latvian parliament and favors limiting Russian in schools, according to NPR. "Basically, we are a nation-state, so we are founded on the basis of language, tradition and culture."
Like its neighbors Estonia and Lithuania, Latvia is celebrating the 100th anniversary of its founding as an independent country, even though all three nations spent half that time as unwilling members of the Soviet Union.
After centuries of Russian domination, many Latvians believe they need to protect themselves against cultural and political assimilation by their giant neighbor. Latvia has fewer than 2 million people, while Russia's population is more than 142 million. In a 2012 referendum, three-quarters of Latvian voters rejected making Russian the second official language.
"It's a miracle Latvian survived as a language. It's something unique," says Andis Kudors, head of the Center for East European Policy Studies in Riga. "Latvians are sensitive because language is the main feature of our national identity."
Read alsoRussia secretly finances news outlets in Lithuania, Latvia, Estonia as part of information warfare
When Latvia regained its independence in 1991, it inherited a bilingual educational system from the Soviet Union, with instruction in Latvian and Russian. The country took a first step at dismantling that system in 2004 by requiring at least 60 percent of school instruction to be in Latvian.
The new law will now put an even greater emphasis on Latvian, so that by 2021, the last three years of high school will be taught entirely in the country's official language.
"Latvian will lose in natural competition with English or Russian," said Kudors. "We have a duty to preserve it as part of the cultural heritage of the whole world."
Opponents of the law, largely members of the Russian-speaking community, counter that the new legislation unfairly discriminates against them, since instruction in languages of the European Union — like at the German and French schools in Riga -- can continue.
Read alsoLatvian military train to repel "Ukrainian scenario" at Namejs 2018 drills
"De facto, Russian is not a foreign language in Latvia, it's been used here for ages," said Degi Karayev, an activist who has organized protests against the change. "The problem with this new education law is that the Russian language is being wiped out of our society."
Like many countries that emerged from the Soviet Union, Latvia's ethnic composition is a patchwork: Latvians make up just over 60 percent of the population, Russians about a quarter, followed by Belarusians, Ukrainians, Poles and Lithuanians. Given that mix, Russian often serves as a linguistic common denominator, especially in Riga, where more than a third of the population is Russian.
Karlis Sadurskis, Latvia's education minister, argues that the whole purpose of the language law is to stop the polarization of the country's two largest ethnic groups.
"If our kids are not learning together, it's difficult to imagine that our society will be integrated, follow the same values, celebrate the same festivities and have the same attitude to our country," he says.
The new law is intended to strengthen the civic sense of all Latvian citizens, he says, regardless of what language they speak at home.
As UNIAN reported earlier, Ukraine-Hungary relations deteriorated after the adoption by the Ukrainian parliament of a new law on education.
Hungary has been blocking the meetings of the NATO-Ukraine Commission, alleging a violation of the rights of Hungarians living in Ukraine because of the law's provision stipulating that the language of instruction in educational facilities shall be the state language (Ukrainian).
Read alsoHungary escalating tensions with Ukraine, playing along with Russia – media
In particular, Hungarian foreign minister Peter Szijjarto demanded that Ukraine amend the education law and postpone its implementation until 2023, otherwise Budapest will block meetings important for Kyiv at the level of the European Union and NATO.
On October 13, Ukrainian Foreign Minister Pavlo Klimkin stressed that there was no way back regarding the law on education adopted by the Verkhovna Rada in 2017, while consultations with the Hungarian community of Zakarpattia should continue.
He stressed that the goal of the law on education is not to assimilate the Hungarians, but to open up chances for self-realization of the Hungarian minority in Ukraine.