Fires rage in South Siberia: 21 villages on fire, 900 houses destroyed (Video)
20:57, 12 April 2015
World
At 1300 local time on Sunday, Khakassia declared an emergency situation due to large-scale fires.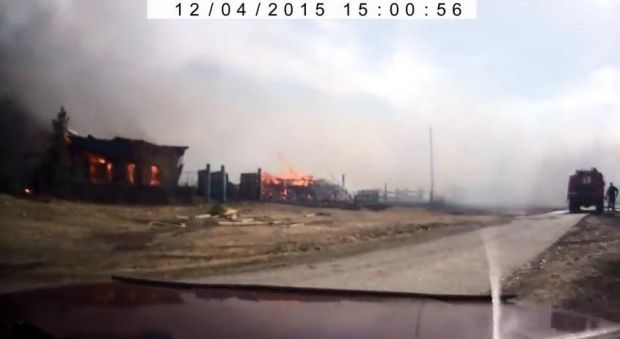 Large-scale fires are raging in Khakassia / A screenshot
Large-scale fires are breaking out in the Republic of Khakassia, Russia's south Siberian region, on Sunday. Unidentified people set fire to dry grass and debris, and the strong wind made the fire rage in the region, burning forests and villages, TSN.ua reported.
"According to latest reports, the fire has destroyed 118 houses in 21 villages in Khakassia. It's impossible to localize the fire in the residential sector because of the strong wind. All fire brigades are now working to save populated localities and business facilities. Forces are not enough to put out the fire in the steppe zone and in districts with summer houses," the Main Department of Khakassia's Ministry of Emergency Situations reported.
Rescuers call on all residents to join efforts to put out the fire.
As of Sunday evening, five people were killed in the fire and about 900 houses were burned down in Khakassia, a source in a local law enforcement agency told Russian news agency RIA Novosti.
"The death toll, according to preliminary data, is now five people. The number of destroyed houses is about 900," the source said.
If you see a spelling error on our site, select it and press Ctrl+Enter