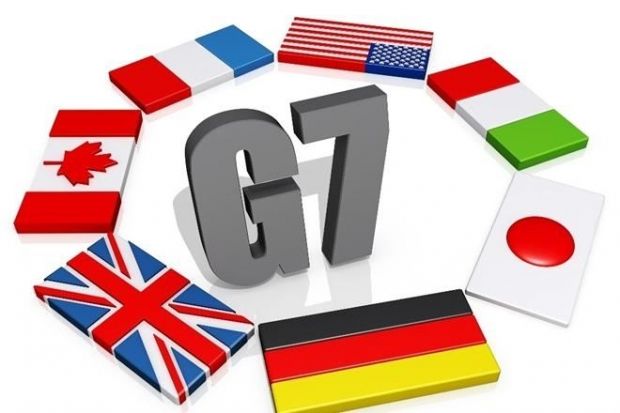 Ukraine expects the G7 summit will touch upon a peaceful resolution to the Donbas conflict / Image from minfin.com.ua
This was discussed during a meeting between Deputy Head of the Ukrainian Presidential Administration Valeriy Chaly and Deputy Minister of Foreign Affairs of Japan Yasumasa Nagamine, the presidential press service reported.
Chaly in particular expressed gratitude to Japan for upholding Ukraine's sovereignty and territorial integrity. He noted that the position of Japan was very important, especially on the eve of the G7 Summit to be held on June 7-8. Ukraine expects the summit will touch upon the issue of a peaceful resolution to the Donbas conflict and ways to counter Russian aggression.
The parties discussed the fulfillment of the Minsk agreements and the prospects of deploying an international peacekeeping mission under the aegis of the UN in Ukraine.
"Yasumasa Nagamine assured of Japan's readiness to further provide comprehensive support to Ukraine, inter alia, through consolidation of efforts of the international community," the presidential press service said.
Chaly also thanked Japan for the large-scale financial aid to Ukraine, namely the allocation of $1.5 billion of credit aid for the implementation of a series of projects to support development.
He also praised the decision by the Japanese government to allocate additional aid to Ukraine in the amount of $316.6 million for the stabilization of the Ukrainian economy and the support of reforms.
The parties noted the importance of further development of bilateral relations and discussed the implementation of the agreements achieved at the highest level. In this context, they emphasized the importance of completing the internal procedures necessary for the agreement between Japan and Ukraine on facilitation and protection of investments of February 5, 2015, to enter into force.