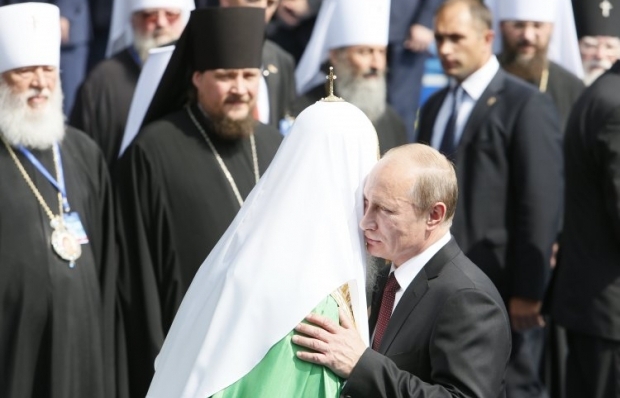 Photo from UNIAN
As Vladimir Putin prepared to return to the Kremlin for a third term of office in 2012, Patriarch Kirill, the powerful head of the Russian Orthodox Church, described the ex-KGB officer's rule as a "miracle of God."
The patriarch's comments, made during a pre-election televised meeting with Putin, were a stark illustration, critics said at the time, of the erosion of the separation of church and state, as stipulated by Russia's much-abused post-Soviet constitution. Over the following years, Putin, who professes a deep Orthodox belief, would shift to ultra-conservatism, positioning himself as a defender of traditional Christian values, Politico wrote.
Flash forward to 2019, and while the institution of the Russian Orthodox Church remains broadly loyal to the country's secular authorities, the Kremlin's relations with some grassroots believers — once viewed as a bedrock of support for Putin — are increasingly tense.
Read alsoMetropolitan Epifaniy announces Ecumenical Patriarch's visit to Ukraine
Not only did Orthodox Christians make up a significant number of the scores of protesters who took to the streets in pro-democracy protests across Russia this year; many of them openly cited their faith as grounds for taking action.
The harsh crackdown on demonstrators in Moscow — where opposition politicians were barred from running in city elections, sparking mass unrest — was a turning point for many.
"I joined the protests this summer due to my religious beliefs," said Elena Morgunova, a 27-year-old financial services worker in Moscow. "Jesus Christ said, 'Love one another as I have loved you' and he died on the cross for us. You just cannot be indifferent when you see people suffering, when you see unfair court judgements."
Their willingness to join the pro-democracy rallies has put religious Russians in the crosshairs of the wider crackdown on opposition figures. It has also prompted an unprecedented response from individual religious leaders themselves, who are increasingly putting their heads above the parapet to defend the values they associate with their beliefs and which they see as being violated by the Russian authorities.
In September, Russian Orthodox priests signed an open letter condemning what they called the "repressive" trials of more than two dozen protesters — the majority of them in their twenties or thirties — who have been charged for participating in the protests. To date, six of the protesters remain behind bars awaiting trial, while eight more have been handed prison terms of up to five years.
Read alsoOver 500 Moscow Patriarchate parishes in Ukraine join new Orthodox Church – leader
"We appeal to those with judicial power who serve in the law enforcement agencies of our country. Many of you were baptized in the Orthodox Church and consider yourselves believers. Judicial proceedings should not be repressive, courts should not be used as a means of suppressing dissent and the use of force should not be carried out with unjustified cruelty," the letter, signed by almost 200 priests, read.
The letter was an unprecedented display of clerical independence. It rekindled memories of dissident priests such as Father Gleb Yakunin, who campaigned for human rights during the officially atheist Soviet era.
Vedomosti, a daily business newspaper, called the move by the priests a "brave and deeply Christian step" that was welcomed by large numbers of believers.
When Alexei Minyaylo, an Orthodox believer known for his charitable work and political activism, was arrested in Moscow earlier this year, police officers raided his apartment and confiscated a sign that read "Love is stronger than fear," a paraphrase of a Biblical verse.
Several Orthodox priests attended his court hearings in a show of support, and charges of calling for mass unrest were eventually dropped.
"In Orthodoxy, there has long been a tradition of remaining silent. To pray, rather than to act," said Minyaylo. "This is a harmful, distorted view of Orthodoxy."
The institution of the Russian Orthodox Church, however, has come out forcefully against breaking the silence.
The priests' letter provoked an immediate rebuke, with the Church's spokesman, Vakhtang Kipshidze accusing the clerics of meddling in politics. At least one of the signatories was reportedly barred from carrying out church services.