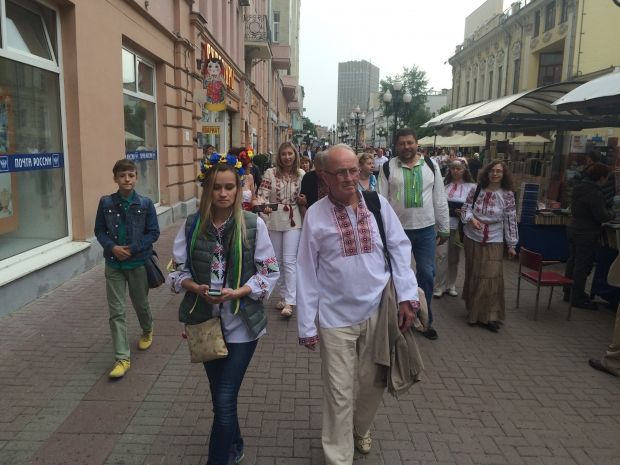 Some residents of Moscow support Ukrainians who have celebrated the Day of Vyshyvanka, a traditional Ukrainian embroidered shirt / Photo by Roman Tsymbalyuk
A flash mob was organized in the center of Moscow, Russia's capital, on Sunday when participants in the event were wearing traditional Ukrainian embroidered shirts, or vyshyvanka, having thus supported Ukrainians who celebrated the Day of Vyshyvanka on May 21, an UNIAN correspondent in Russia reported.
The flash mob was organized through social networks and gathered 20 participants, who marched along the Arbat, a pedestrian street in the historical center of Moscow, while singing and dancing.
The organizers say they had concerns about safety during their mini-march, but in the end, the majority of Russians in Moscow streets reacted positively to the participants dressed in the traditional Ukrainian clothes. Even tourists from South Korea joined the flash mobbers.
However, some Russians did not hide their dislike of the event, some of them used a vulgar language. A "vigilant" woman even threatened to call the police after having heard the Ukrainian slogan "Slava Ukrayini! [Glory to Ukraine]."
"Vyshyvanka is a real work of art. But it also authenticates the Ukrainian idea, Ukrainianness. It also helps consolidate the Ukrainian movement in Moscow," flash mobber Valery Semenenko said.
He claims he has always wanted to take part in a vyshyvanka parade in Moscow, "but knowing where we live, I considered participating in the event with great caution."
"We've arranged a pure flash mob event in the form of a Ukrainian-style stroll. Participants were warned that they shouldn't carry flags or banners, as it could be treated as an unauthorized rally," Semenenko said.
"Vyshyvanka is not only a piece of the beautiful clothes Ukrainians wear today, it is Ukraine's call for humanity and peace," he said.
Another flash mobber, Boris, says he is not afraid of wearing Ukrainian-style clothes in Moscow despite of current anti-Ukrainian hysteria in Russia.
"We, the citizens of Russia, stand for peace and friendship. I'm afraid of living in my own country. Time will come when everything will change for the better, I'm sure," he added.
Liudmyla Melnyk, who also came to participate in the flash mob, said that the Moscow event demonstrates that "Ukraine exists where Ukrainians are, and there is the Ukrainian language, there is the [Ukrainian] history and there is a separate nation."
"This is the demonstration that the Ukrainain community exists here, and no one is hiding, and no one is afraid, and we come up to prove that we are a real nation," she stressed.
Photo by Roman Tsymbalyuk