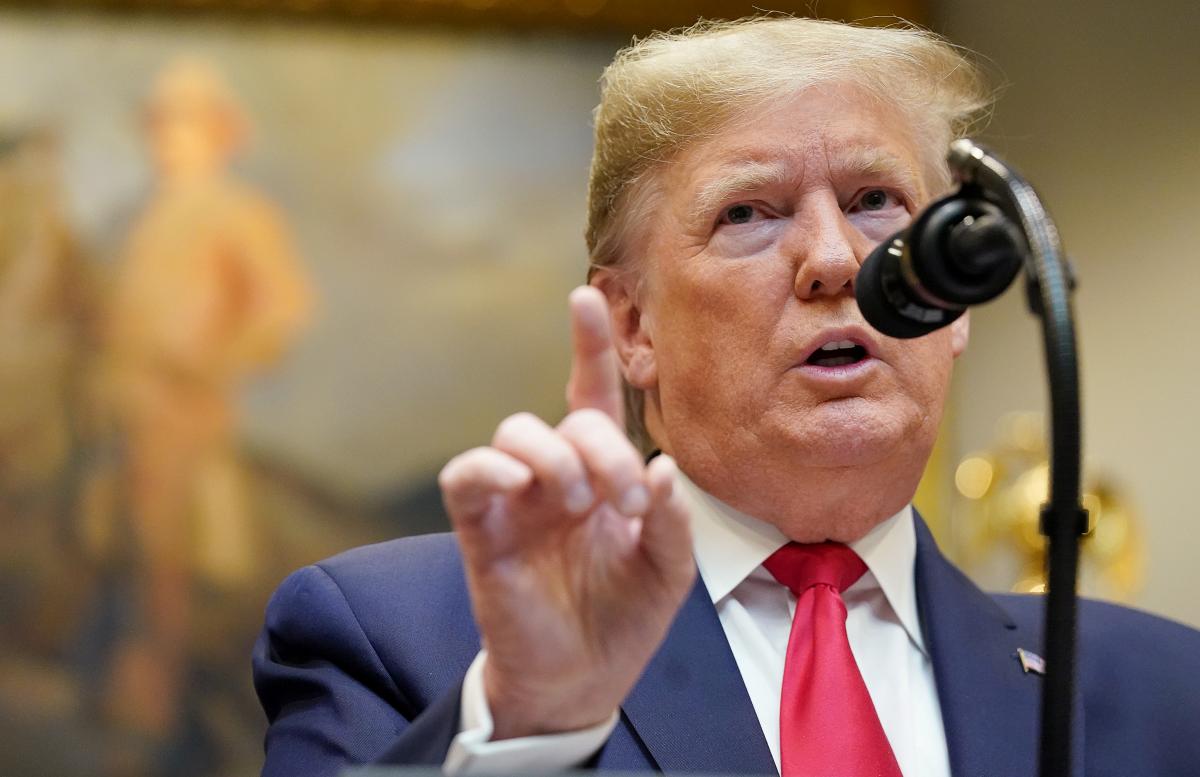 REUTERS
U.S. President Donald Trump's lawyers on Monday assailed the impeachment case against him as a "dangerous perversion of the Constitution," asserting he did "absolutely nothing wrong" in pressing Ukraine to launch investigations to benefit himself politically.
The lawyers for the U.S. leader said Democratic lawmakers pushing for the impeachment of the Republican president and his removal from office were not trying to find the truth about Trump's Ukraine-related actions, but rather some way to overturn his 2016 election and interfere with his 2020 reelection campaign, Voice of America reports.
In a legal brief a day ahead of the first substantive session of Trump's impeachment trial in the Senate, the lawyers called the Democrats' case against him "a constitutional travesty" and said the Senate should swiftly acquit him of the two articles of impeachment he is facing. One alleges that he abused the presidency by pressing Ukrainian President Volodymyr Zelensky to investigate one of his top 2020 Democratic challengers, former Vice President Joe Biden, and the other that he obstructed Congress in its review of his Ukraine efforts.
Read alsoTrump's team seeing Ukraine as easy mark "bad miscalculation" – media
Democratic lawmakers had earlier said it was clear that the "evidence overwhelmingly establishes" that Trump is guilty of both charges in the two articles of impeachment.
The Trump lawyers, in their 110-page filing, said that Trump was conducting normal foreign policy affairs in dealing with Zelensky.
They said he did not commit a crime, even though conviction of an impeached U.S. president and removal from office does not depend on a specific violation of a criminal law. Rather it is how the 100 members of the Senate, acting as jurors, interpret the standard for conviction set out in the U.S. Constitution, whether a president has committed "high crimes and misdemeanors." 
No matter the legal arguments for and against Trump, he almost certainly will be acquitted by the Republican-majority Senate, where a two-thirds vote against him would be required for conviction and removal from office, just months ahead of his reelection bid in November. At least 20 of the 53 Republicans in the chamber would have to join all 47 Democrats to convict Trump, and no Republican has called for his ouster.
But Trump's impeachment trial is only the third such event in the nearly 2-1/2 centuries of U.S. history and the proceedings, overseen by Chief Justice John Roberts, will be fraught with uncertainty.
The White House is predicting Trump's acquittal within two weeks, but the trial could last much longer if Democrats succeed in persuading four Republicans to join them in calling for testimony from key Trump aides about the president's Ukraine-related actions.