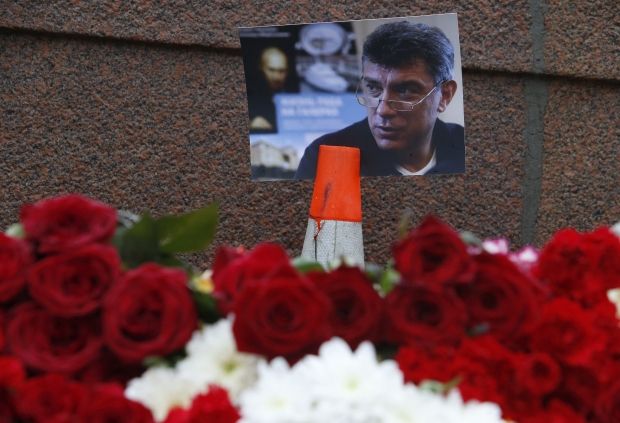 REUTERS
Prague City Council voted on Monday in favor of renaming what was known for decades as "Under the Chestnuts Square" to "Boris Nemtsov Square," according to the city's mayor, Zdeněk Hřib.
The official renaming will take place on February 27, the fifth anniversary of the opposition leader's killing, CNN reports.
This will be the fourth Russian embassy to suddenly find itself based at or near an address commemorating Nemtsov, one of the most vocal critics of President Vladimir Putin.
To mark the third anniversary of Nemtsov's death, the section of Wisconsin Avenue in front of the Russian embassy in Washington was renamed "Boris Nemtsov Plaza," much to the anger of the Russian government.
A few months later, the Lithuanian capital of Vilnius followed with a similar move. Last year, a "Boris Nemtsov Park" popped up in the Ukrainian capital of Kyiv, near the Russian embassy there.
Read alsoRFE/RL: U.S. sanctions Chechen officials allegedly linked to 'gay purge,' killing of Nemtsov
It might sound like political trolling, but for Nemtsov's family, the renaming is a powerful gesture.
The Russian opposition leader was shot in the back while walking with his Ukrainian girlfriend in central Moscow in 2015, two days before he was due to attend a large opposition rally in the Russian capital. Five Chechen men were convicted for the murder and are serving prison terms, but Nemtsov's family and colleagues have expressed concern that those who ordered the killing might never be brought to justice.
"It's very, very important to keep the name in the public domain, for the next political leadership of Russia to have the responsibility to investigate this murder, to have it on the agenda," Nemtsov's daughter Zhanna Nemtsova told CNN.
She said the newly named square will also empower those Russians who oppose the current political leadership there. "Pro-democracy people, they have no representation in the Russian system of power, their ideas are not represented by any politicians, they are out of the political system," she said. "This is a very symbolic move, these people want their voice to be heard."